Mini coconut ganache pies are a delight.  Luscious chocolate is poured into a delicate coconut crust making them gluten free too.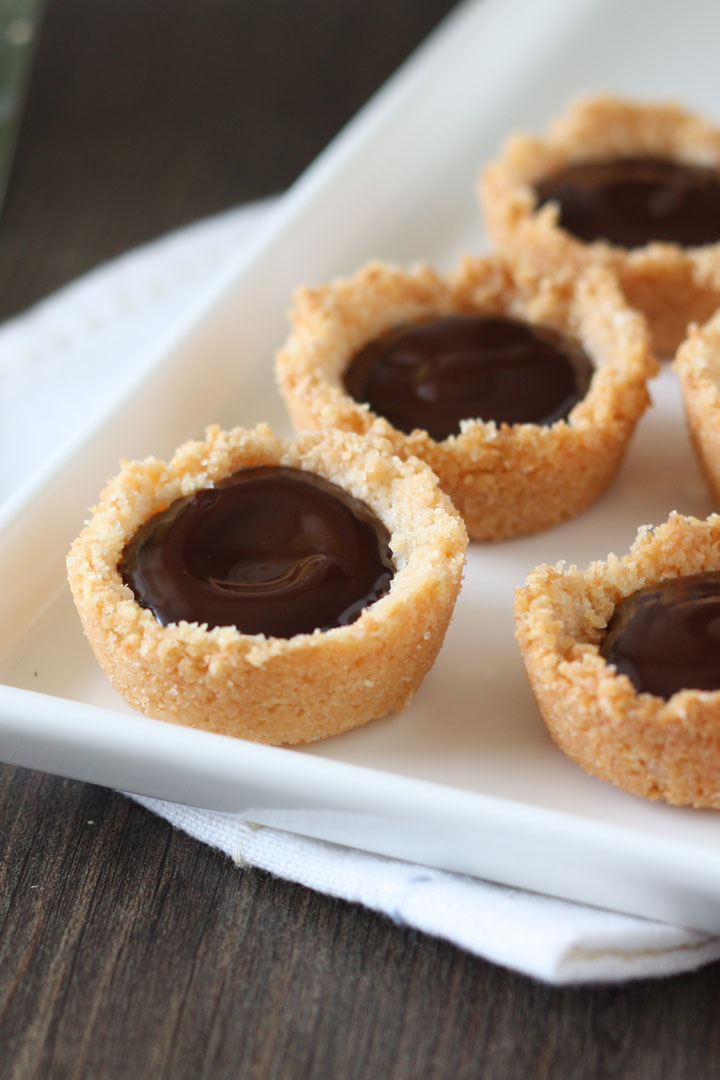 Π=3.14=March 14th....It's Pi Day and yes I'm being a dork today and posting a recipe for a pie. Mini coconut ganache pies to be exact.
This is not new as I have posted other Pi Day recipes like my apple pie cheesecake jars. (That recipe actually comes with pi math problems!)
But I have another good reason for this particular recipe. You see, S has recently gone gluten free and has a habit of searching the kitchen constantly for snacks. I've heard the first two weeks of being gluten free are particularly challenging.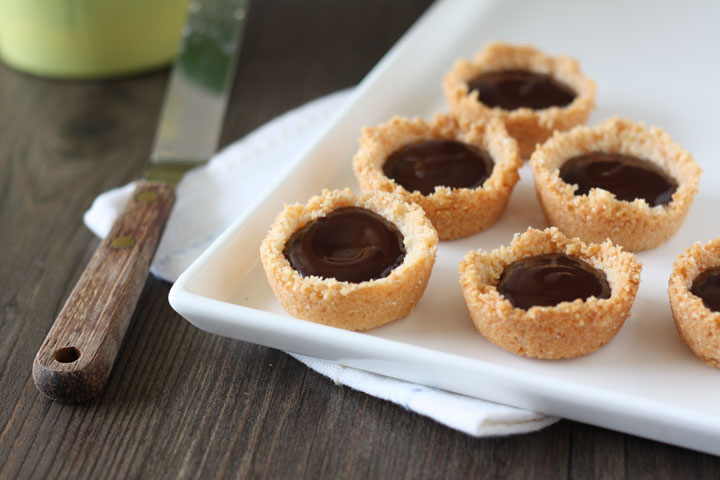 I think he's always feeling a bit hungry because he can't reach for his usual carby snacks. (I caught him opening up a container of pretzel sticks yesterday!)
He's also constantly searching for a chocolate fix and dipping into my baking stash (not cool when I find it gone in the middle of a project) or V's precious mini M&M ice cream toppings (also not cool).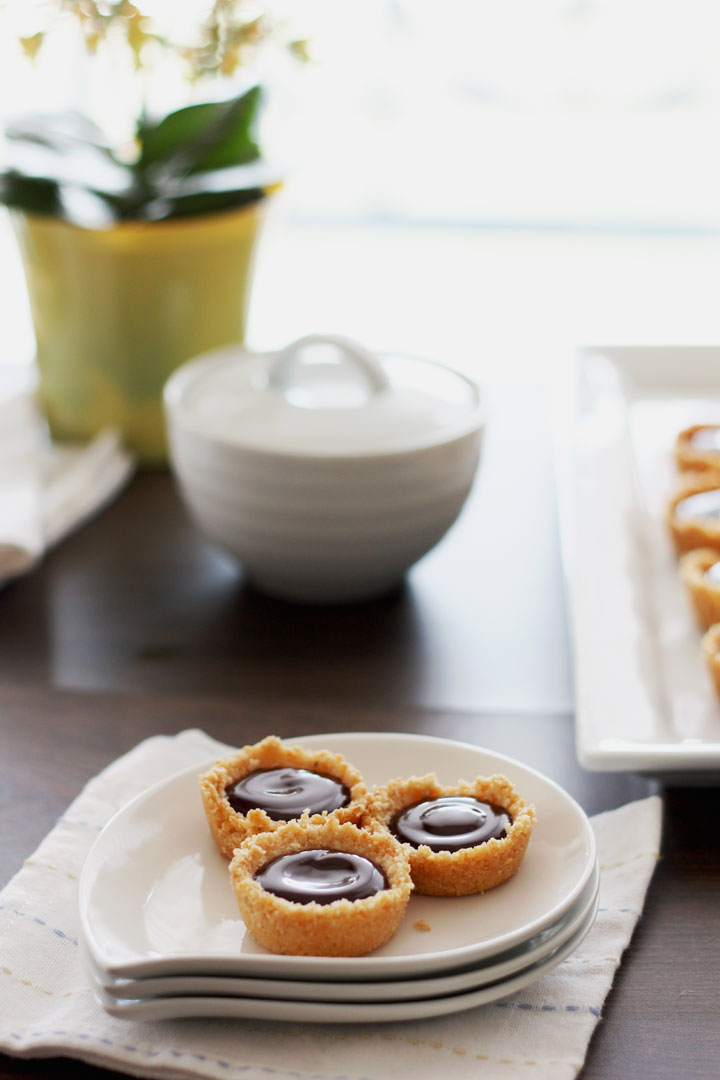 So I've made these mini gluten free pies that are full of chocolate. Instead of regular pie crust, I used a coconut crust. They probably won't solve being hungry or last long but at least it's gluten free and yummy!
Hopefully in a week or so we will have become more use to reaching for other gluten free options for a snack...ahem...like that big pile of fruit sitting on the counter.
On a side note...I picked up this grinder from Trader Joe's. Extra sugar and a hint of coffee over your dessert? Yes please!
Not ready to make these mini coconut ganache pies? PIN it now and SAVE it f or later! For  more gluten free desserts, you may also want to check out these:
Flourless Mocha Almond Fudge Cookies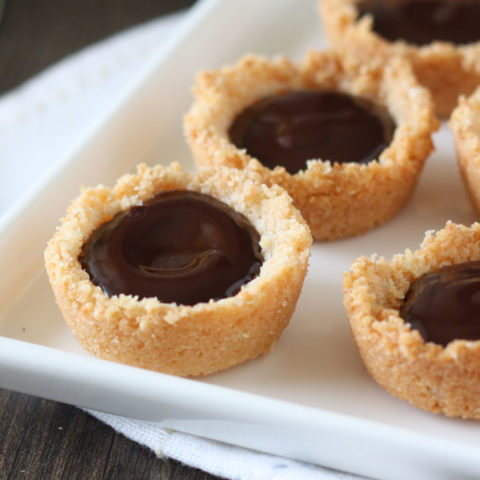 MINI COCONUT GANACHE PIES
Mini coconut ganache pies are a delight. Luscious chocolate is poured into a delicate coconut crust making them gluten free too.
Ingredients
¼ cup unsalted butter
1 ½ cup unsweetened shredded coconut
½ cup almond meal, replace with more coconut if you don't have
¼ cup sugar
pinch of salt
1 cup heavy cream
8 oz bittersweet chocolate, chopped
Instructions
Preheat the oven to 350°F. Combine the butter, coconut, almond meal, sugar and salt in a food processor and mix until it comes together into fine crumbs.
Lightly grease a 24 cup mini muffin pan and press 1 tablespoon of the coconut mixture into each cup, pressing down on the bottom and up the sides.** Bake for about 8-10 minutes or until lightly browned and set. Let it cool in the pan.
Heat the cream to just a boil and pour it over the chopped chocolate in a bowl. Gently stir with a whisk until the ganache comes together. Cool to room temperature.
Remove the tart crusts from the mini pan. Fill each shell with a small amount of ganache. (I used a squirt bottle to make them neat.)
Notes
These crusts are very delicate and crumbly and removing them from the muffin pan is tricky business. I lost quite a few. The thicker the better. If you don't want to bother, I would use paper liners so you can easily pull them out. (Although it still may break  when you remove the papers to eat it.) If you have a tip or trick, I'd love to hear about it!
Nutrition Information:
Yield:

24
Serving Size:

2 mini pies
Amount Per Serving:
Calories:

184
Total Fat:

16g
Saturated Fat:

11g
Trans Fat:

0g
Unsaturated Fat:

5g
Cholesterol:

16mg
Sodium:

23mg
Carbohydrates:

9g
Fiber:

3g
Sugar:

4g
Protein:

3g
This nutrition information is only an approximate provided for convenience and as a courtesy only. Information comes from Nutritionix, an automated nutrition calculator.
SaveSave