These apple pie cheesecake jars are so simple to prepare and taste delicious. Serve them the same day or store them in the refrigerator and eat them all week! Scroll to the bottom for a FREE Pie Problems for Pi Day Worksheet for kids.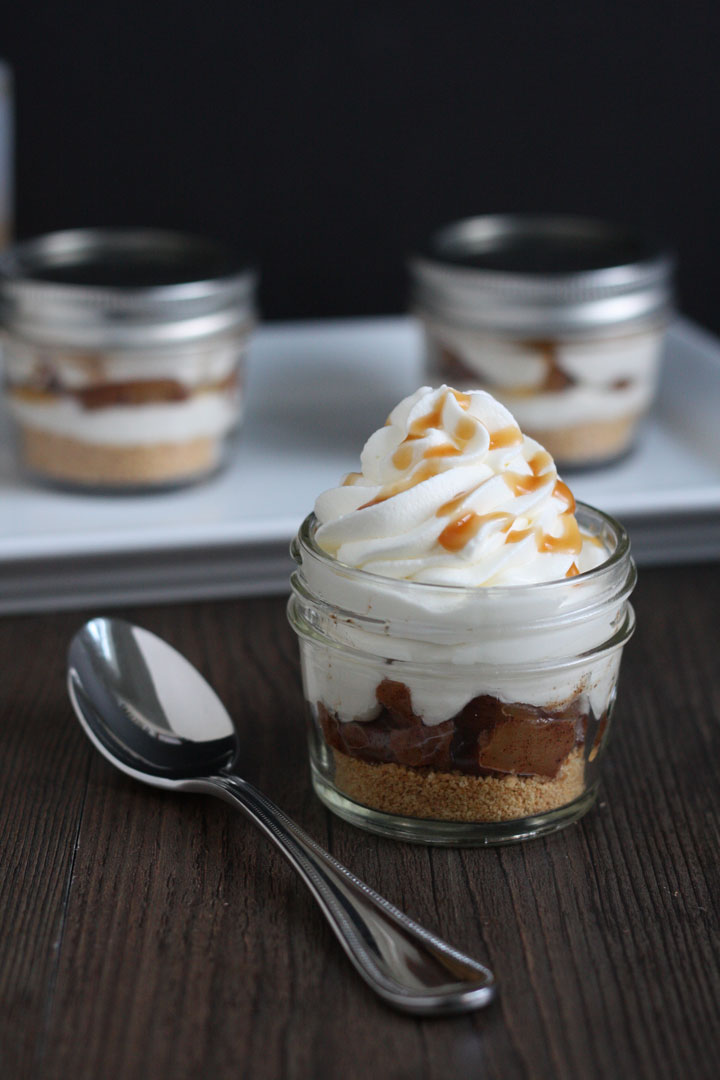 Tomorrow is Pi Day. Not National Pie Day, but Pi Day as in the mathematical term representing the number 3.14..., symbolized by the Greek letter π (Pi). This post may be a bit of a cliché but c'mon it's Pi Day! You have to geek out with me just a little.
So, why am I bringing this up? Many bakers are aware that this is also the day that we pay homage to Pi by baking a pie! In this case, I'm cheating a little and making apple pie cheesecake jars. Keep reading, I'll explain why I'm not taking out my pie dough and rolling pin.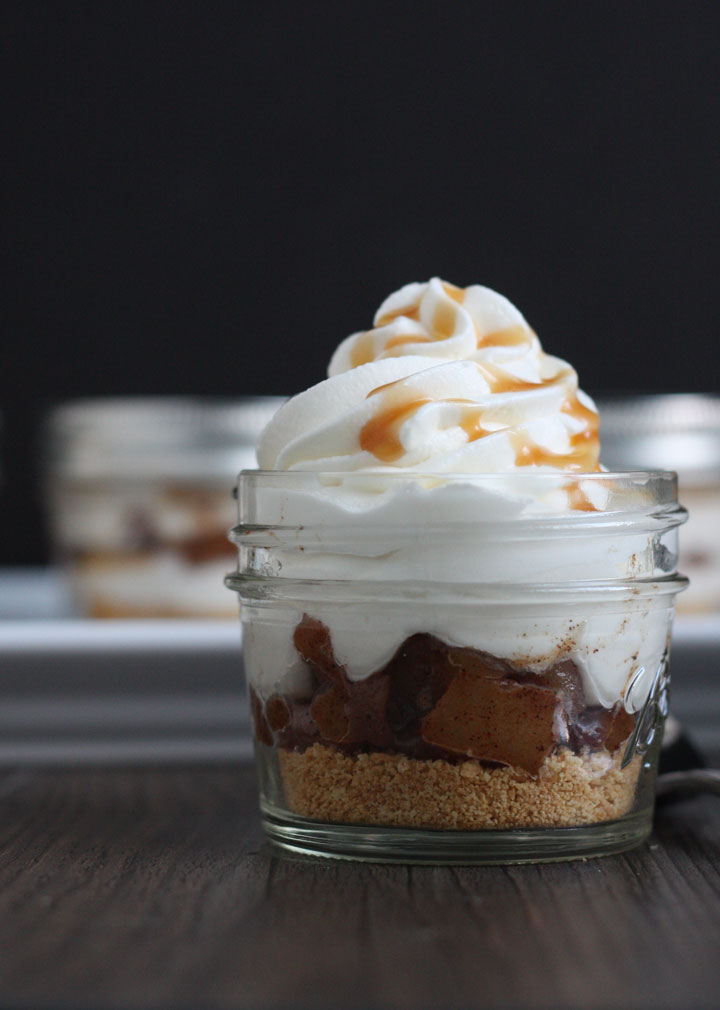 As I was writing this post, I thought of my math teachers and then my own former life as a science teacher. It takes a lot of time to come up with creative assignments to engage kids in the classroom. If I were still teaching, I don't think I'd have time to bake a pie without a lot of pre-planning.
So this Pi Day, I'm offering all the math teachers out there a bonus in this post. First, you get an easy peasy no bake "pie" recipe to make and enjoy with your family from me.
It's a no bake, no pie dough kind of pie because you know, who has time to make pie when you have a pile of papers to grade?
Apple pie cheesecake jars taste just as good, trust me. As a bonus, you also get a downloadable math worksheet about pi and pies! If I had to guess, it's probably suitable for upper elementary and middle school math. You will have to be the judge of that.
I've kept the recipe for this apple pie cheesecake jar simple. The caramel sauce is totally optional.  If you've never made homemade caramel sauce, you can just pick up a jar from the grocery store.
I made the pies in small 4 oz. jelly jars but you can also assemble the apple pie cheesecakes in a wine glass or anything else you think would look pretty.
Did you notice that I did not use a fancy piping tip for the whip cream or caramel in the photo below? That's so I can close them up and store them in the fridge. Let's also be practical, only pipe up fancy if you have time on this one!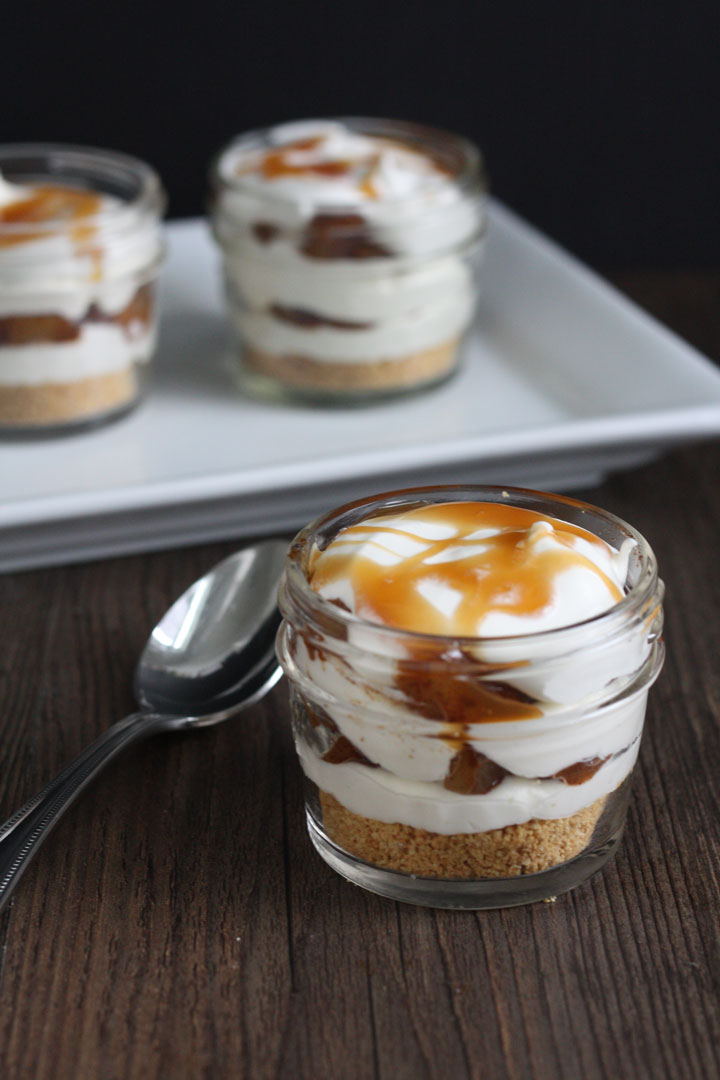 If you like these apple pie cheesecake jars and do have some extra time to bake, you can always try my make ahead mini apple pie bars.
If you're not a teacher but still a parent (or just know someone who loves math), you can download the worksheet and make your kids do it as an incentive to eat the apple pie cheesecake jars that you are making! Hehehehe! Enjoy!
DOWNLOAD THE MATH WORKSHEET: PIE PROBLEMS FOR PI DAY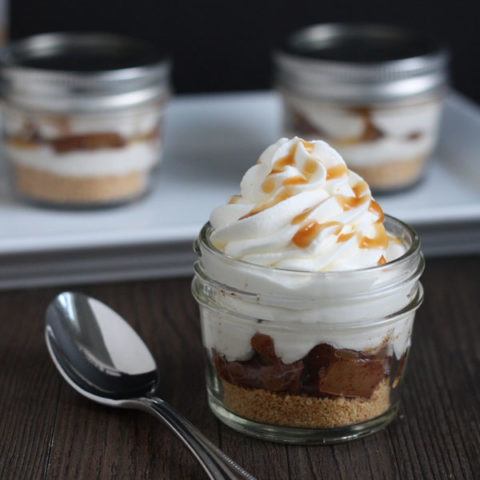 Apple Pie Cheesecake Jars
These apple pie cheesecake jars are so simple to prepare and taste delicious. Serve them the same day or store them in the refrigerator and eat them all week!
Ingredients
½ cup Graham cracker crumbs
2 tablespoons butter divided
1 cup diced apples
3 tablespoons sugar
1 teaspoon cinnamon
¼ teaspoon cloves
¼ teaspoon nutmeg
¼ teaspoon cardamom
1 tablespoon lemon juice
¼ cup water
½ cup whipped topping plus extra for the tops
4 ounces cream cheese, softened
1 teaspoon vanilla
Caramel sauce for drizzle
Instructions
In medium pan, melt 1 tablespoon of butter over medium to low heat. Add the apples, 1 tablespoon sugar, cinnamon, clove, nutmeg, cardamom, and lemon juice and stir for a minute.
Add the water, cover, place over low heat and cook until soft and the water has evaporated, occasionally stirring. If the water evaporates before the apples are cooked, add more water so the mixture does not burn. If the apples cook before the water evaporates, remove the cover and turn up the heat to allow evaporation.
Transfer the apple mixture to a large bowl and allow it to cool.
Melt 1 tablespoon of butter and set side. In a small bowl, thoroughly mix together the graham cracker crumbs melted butter. Set aside.
In a large bowl mix the softened cream cheese with the remaining sugar and vanilla until smooth and creamy.
Fold the whipped cream into the cream cheese mixture until fully incorporated.
Layer the graham cracker mixture, the cheesecake mixture and the apples into each serving vessel. Top each one with extra whipped cream and drizzle with caramel sauce.
Notes
The jars I used are 2.5 inch diameter (4 oz.) jelly jars. This recipe makes 6 jars. Adjust accordingly if you are making them in something else.
I actually made my "whipped topping" by whipping heavy cream with confectioners sugar but you can buy whipped topping to make things simple. 
Nutrition Information:
Yield:

6
Serving Size:

1 jar
Amount Per Serving:
Calories:

204
Total Fat:

13g
Saturated Fat:

8g
Trans Fat:

0g
Unsaturated Fat:

4g
Cholesterol:

29mg
Sodium:

148mg
Carbohydrates:

22g
Fiber:

1g
Sugar:

16g
Protein:

2g
This nutrition information is only an approximate provided for convenience and as a courtesy only. Information comes from Nutritionix, an automated nutrition calculator.