Love trying exotic street food? Pav bhaji is a popular Indian street food made of spicy mashed vegetables served with hot buttery bread. Make it in your Instant Pot for an easy tasty meal.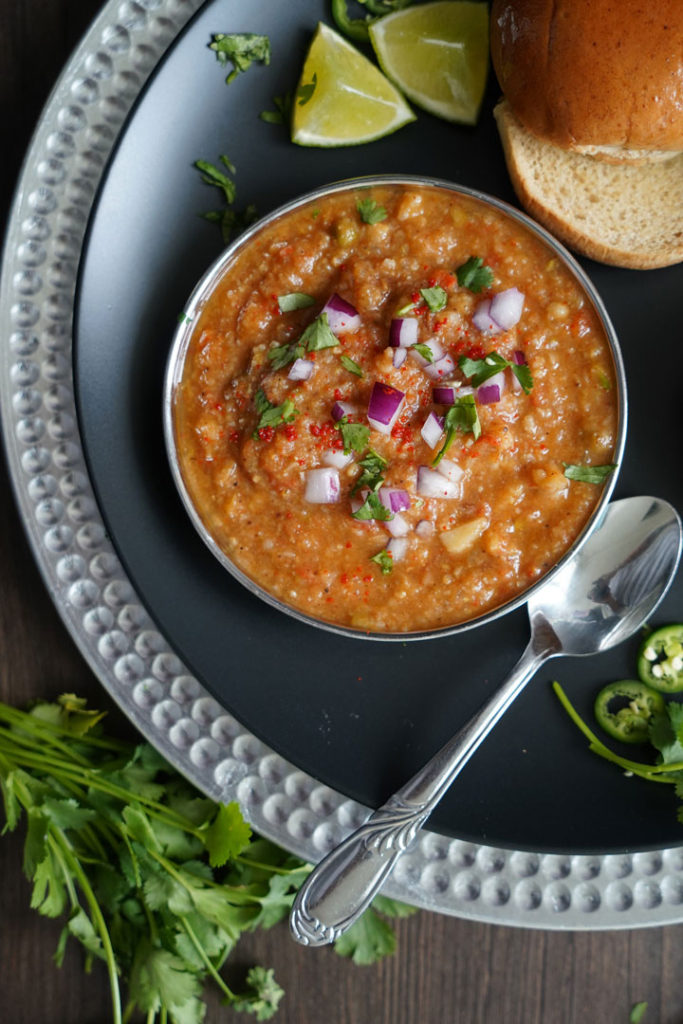 What is Pav bhaji?
Pav Bhaji is one of the most popular street foods of Mumbai. Simply put, the word pav means bread and bhaji means vegetable.
It's a mix of mashed boiled vegetables cooked in spicy masala and served with soft buttery bread. Fresh chopped onion, lime juice and extra chili peppers are often added on top. You eat it by dipping hot buttery bread into the spicy vegetables.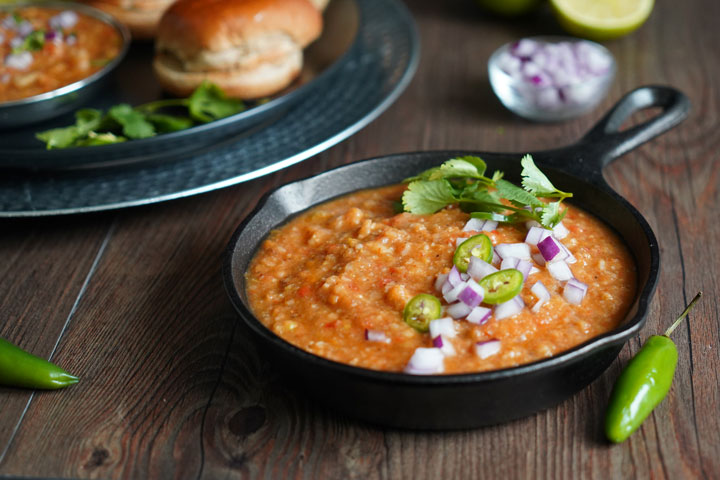 I learned to make pav bhaji at home early on because it's always been a favorite. I used to boil the vegetables separately in a pressure cooker and then make some onion tomato gravy in another pot and then cook it all together.
With the Instant Pot, making pav bhaji at home has become way more efficient and only requires one pot!
What vegetables go in pav bhaji?
There are so many varying recipes out there. The basic vegetables used in pav bhaji are cauliflower, potatoes, and peas.
Sometimes I add carrots or green beans and sometimes I don't. The truth is that it doesn't really matter what else you add to it. Take it as an opportunity to clean out your refrigerator or freezer!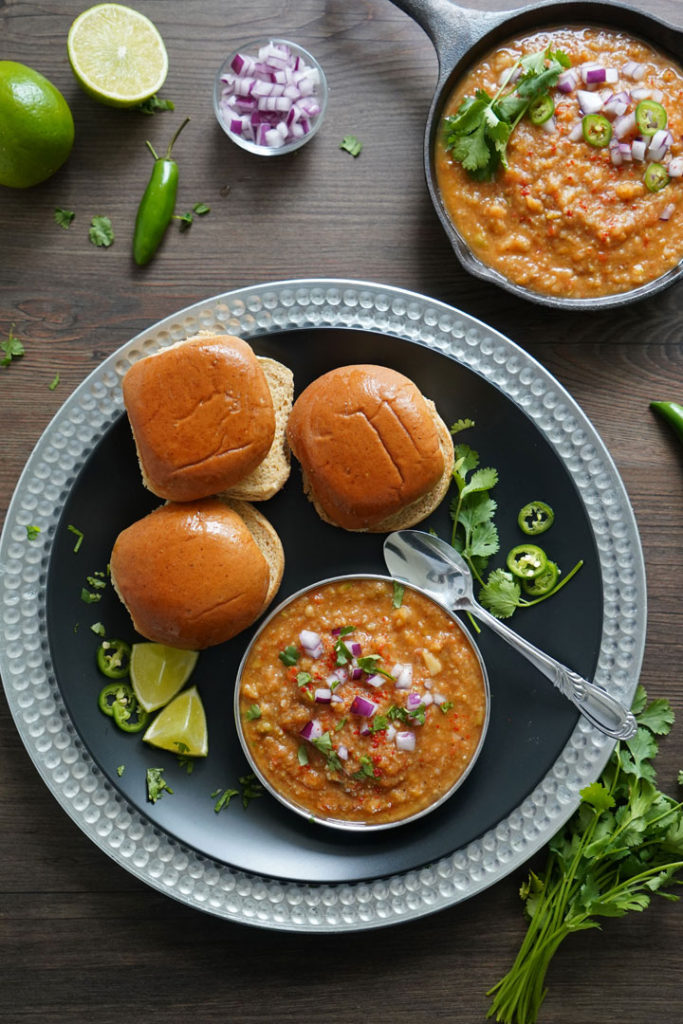 The taste is not so much in the vegetables but in the masala. After making a basic gravy of onion, garlic, ginger and tomato, you add special pav bhaji masala.
So, what are the ingredients of pav bhaji masala?
Well, that too can vary between brands but it's basically coriander, dry chili cumin, black pepper, dry mango, clove, cinnamon, turmeric, dry ginger, anise, fennel, black cardamom, black salt.
Whoa! That's a lot of stuff right? That's why it's easier to buy a ready made mix.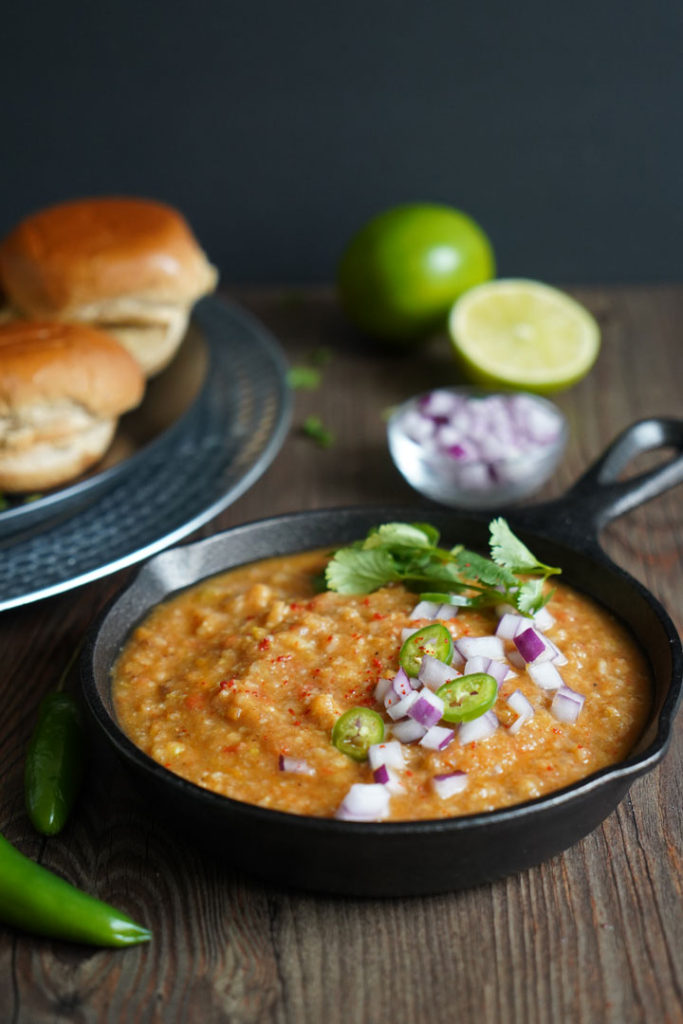 I think the best pav bhaji masala brand is Everest. I've tried many brands and it's the only one that tastes good without getting overly spicy with red chili flavor.
Pav bhaji masala is available at Indian grocery stores and some mainstream grocers as well. Just check the international aisle.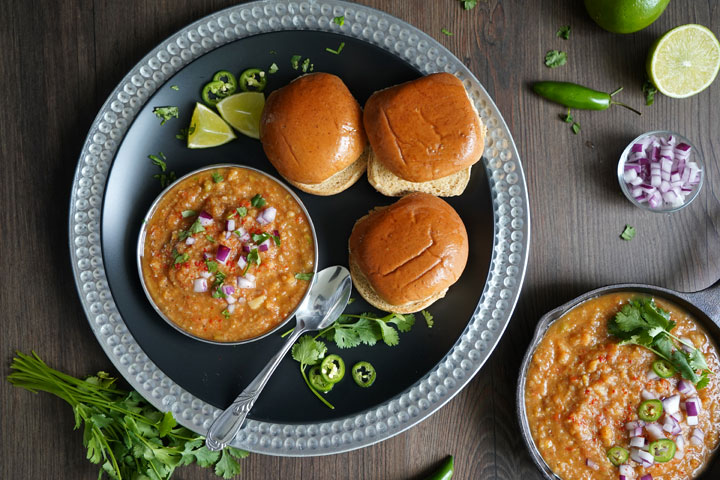 I'm telling you, this stuff is lip smacking good. If you've never had pav bhaji, it's time to step outside the box and give it a try! It's an easy one pot meal for your next meatless Monday. If you're not into so many vegetables, you may also want to check out my Instant Pot ragda recipe for some ragda pav.
I originally shared this Pav Bhaji recipe over on Food Fanatic so be sure to check it out there as well along with my other vegetarian recipes.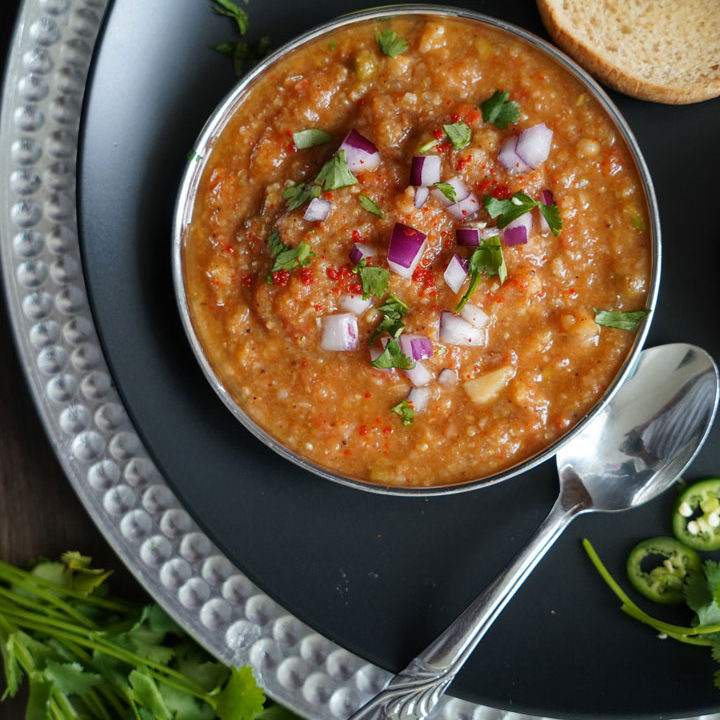 Pav Bhaji
Love trying exotic street food? Pav bhaji is a popular Indian street food made of spicy mashed vegetables served with hot buttery bread. Make it in your Instant Pot for an easy tasty meal.
Ingredients
2 teaspoons Oil
½ teaspoon Cumin Seeds
2-3 Whole Cloves
½ Cinnamon Stick
1 cup Onion, finely chopped
1 cup Red Bell Pepper, finely chopped
1 tablespoon Fresh Ginger Paste
1 tablespoon Fresh Garlic Paste
2 cups Fresh Tomato Puree
1 ½ tablespoons Pav Bhaji Masala
1 head Cauliflower, chopped (small size)
2 cups Potato, peeled and diced
1 cup Frozen Green Peas
2 tablespoons Fresh Cilantro, chopped
8-12 Slider Buns, or Dinner Rolls
Butter, (for the rolls)
Instructions
Turn on the Instant Pot to Sauté mode. When it reads "hot", add the oil, cumin seeds, cloves and cinnamon sticks. Let the spices simmer in the oil for about 30 seconds.
Add the onions and red peppers and sauté for 4-5 minutes until the onions are clear and the bell peppers are soft.
Add the ginger and garlic, stir, and cook for another minute. Add the tomato puree and pav bhaji masala. Let the mixture bubble and cook for 3-4 minutes.
Add the cauliflower, potato, peas and other vegetables you may be using. Add 1 ½ cups of water. Salt to taste. Turn off Sauté mode.
Close the lid with the valve sealed and set it to manual for 8 minutes. Let it naturally release for at least 10 minutes.
Open the lid, and mash the vegetables with a potato masher or pulse an immersion blender in the mixture a few times. Adjust the salt if needed and garnish with cilantro.
To toast the bread, melt a pats of butter on a hot skillet and place the buns on the skillet. Press the buns with a spatula to toast on both sides.
Notes
Be careful when adding pav bhaji masala. Different brands have different spice levels. Add less if you are not sure and adjust the taste at the end if needed.
NON-INSTANT POT INSTRUCTIONS: Do steps 1-3 in a large pot. Add boiled vegetables in step 4 along with the water and salt. Bring it to a boil and then simmer for 15 minutes. Continue with steps 6-7.
Nutrition Information:
Yield:

8
Serving Size:

1
Amount Per Serving:
Calories:

265
Total Fat:

6g
Saturated Fat:

2g
Trans Fat:

0g
Unsaturated Fat:

4g
Cholesterol:

4mg
Sodium:

325mg
Carbohydrates:

45g
Fiber:

7g
Sugar:

10g
Protein:

10g
This nutrition information is only an approximate provided for convenience and as a courtesy only. Information comes from Nutritionix, an automated nutrition calculator.