Ragda is a spicy green pea curry used in many chaat dishes. This Instant Pot version makes it so easy. Homemade Mumbai street food can't get better than this!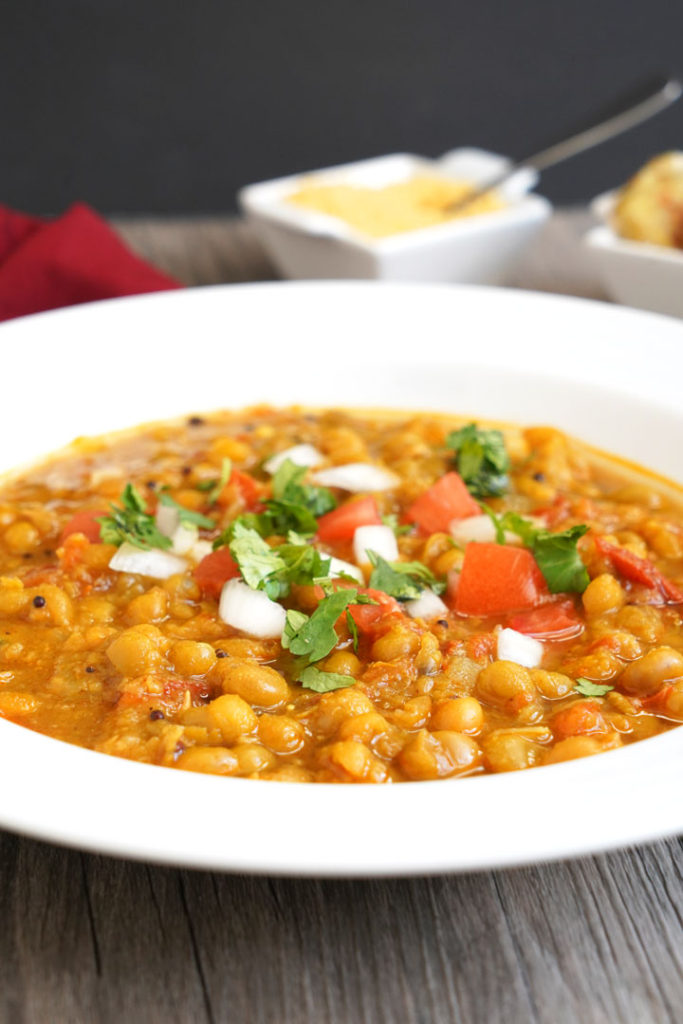 I'm back to bring you some more lip smacking Mumbai street food like that tasty Bombay sandwich! Ragda is a spicy green pea curry that is served over potato patties known as pattice.
Then it's topped with all your typical chaat fixings: sev (crunchy chick pea flour noodles), onions, tamarind date chutney, cilantro chutney, fresh cilantro.
Oh, and don't forget the extra chaat masala! Together the dish is known as ragda pattice or ragda patties.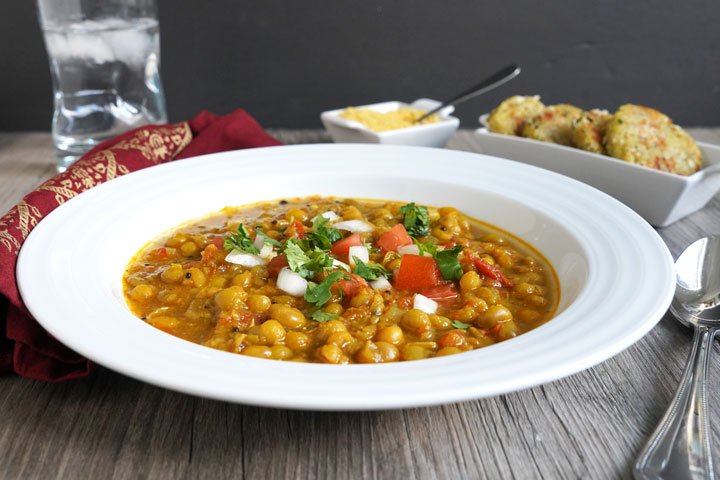 You may have heard of the North Indian version of this known as aloo tikki with chole. It uses a chick pea based gravy and has become popular in many Indian restaurants abroad.
Personally, the Mumbai version with peas will always be my favorite.
I love this dish but often I skip the potato patties and just eat the ragda by creating a ragda chaat. You can also use ragda to create other chaat dishes like samosa chaat or ragda puri.
How to Make Ragda
This ragda recipe is based off my mom's traditional recipe but adapted for the Instant Pot. If you remember to soak the peas ahead of time, this recipe really does not take much time to make.
I emphasize the soaking because the peas NEED to soak otherwise they will not cook properly.
Don't be intimidated by the ingredient list either. It's really mostly just spices! So other than chopping up tomato, onion, ginger and garlic, it's not much work.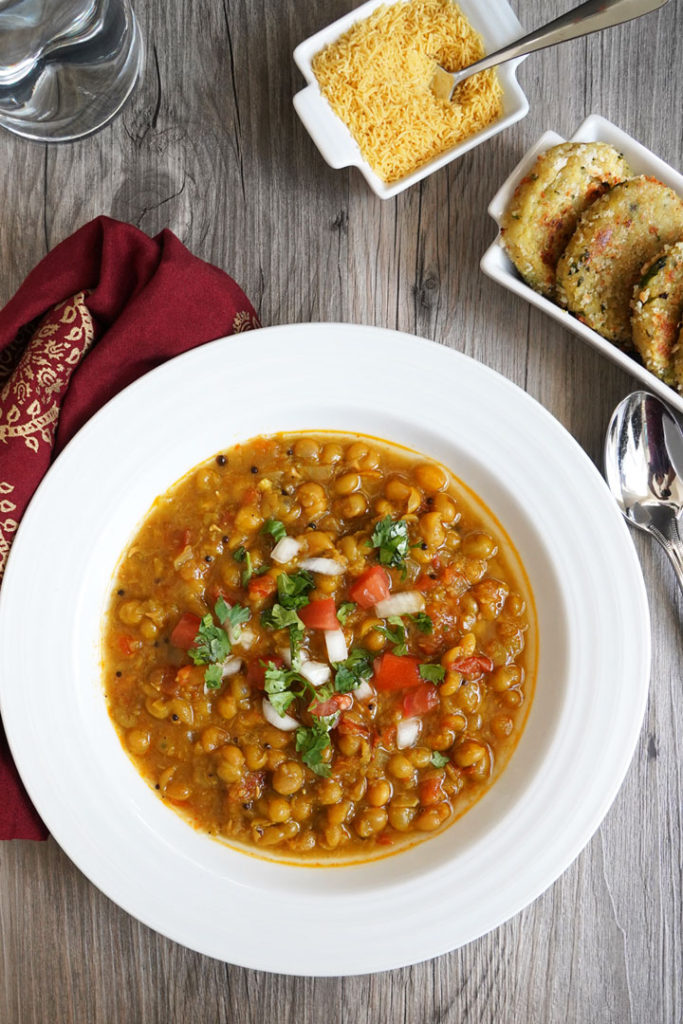 In fact, don't even chop ginger and garlic. If you have a Microplane zester, you can use it to finely crush your ginger and garlic.
Once your ingredients are measured out, sauté them right in the Instant Pot. To get all the flavors to come out, follow the ragda recipe steps to slowly cook down the onions, tomatoes and spices.
Then it's just a matter of adding water and letting the Instant Pot do its thing!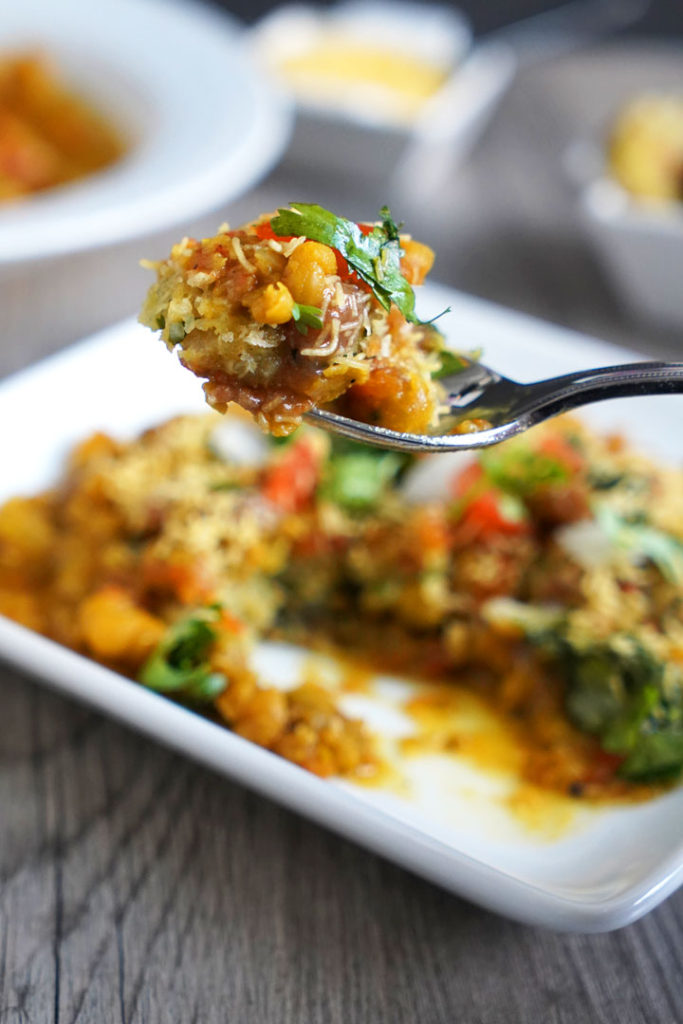 Sit back, serve yourself the sweet spicy goodness of ragda and top it off with a good cup of chai and maybe even a piece of coconut burfi for dessert.
If you enjoy Mumbai street food as much as I do, you may also want to check out my Instant Pot recipe for pav bhaji.
I originally shared this ragda recipe on Food Fanatic so be sure to visit it there.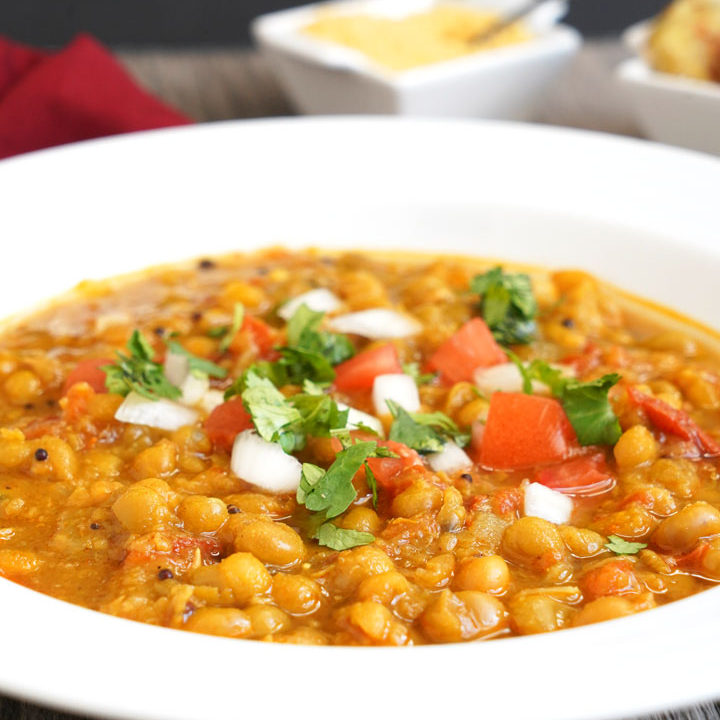 Ragda Recipe for Instant Pot
Total Time:
1 hour
10 minutes
Ragda is a spicy green pea curry used in many chaat dishes. This Instant Pot version makes it so easy.  Homemade Mumbai street food can't get better than this!
Ingredients
1 cup dried green or white peas, soaked for 6 hours or overnight.
2 Tablespoons canola oil
½ teaspoon black mustard seeds
3 whole cloves
½ cinnamon stick
1 cup diced onion
1 Tablespoon minced fresh ginger
1 Tablespoon minced garlic
1 cup diced tomato
½ teaspoon ground turmeric
1 ½ teaspoon ground coriander
1 teaspoon garam masala
½ teaspoon red chili powder, optional
2 teaspoons salt
1 Tablespoon brown sugar
2 Tablespoons lemon juice
¼ cup fresh cilantro, chopped
Instructions
Turn the Instant Pot to sauté mode and heat the oil. When the oil becomes hot, add the mustard seeds, cloves and cinnamon stick. Let them simmer for a minute.
Add the chopped onions, garlic and ginger and fry for 2 minutes.
Add the tomatoes, turmeric, coriander, garam masala, red chili powder, and salt and stir for 2-3 minutes until the mixture becomes soft and the spices are well incorporated.
Add the peas, brown sugar and 2 cups of water. Stir.
Close the lid of the instant pot, seal the pressure valve and set to manual mode 25 minutes. Let it naturally release before opening.
Stir in the lemon juice and chopped cilantro.
Serve alone or as a soup garnished with fresh chopped onions or over potato patties.
Notes
Adjust the amount of garam
masala and red chili powder to your own spice level.
You can substitute 1 Tablespoon tamarind paste for lemon juice.
You can substitute 1 Tablespoon jaggery for brown sugar.