Tamarind Date Chutney is a sweet and sour sauce that's perfect for dipping or drizzling. Use it on samosas, pakoras, paneer tikka and all your favorite Indian street foods.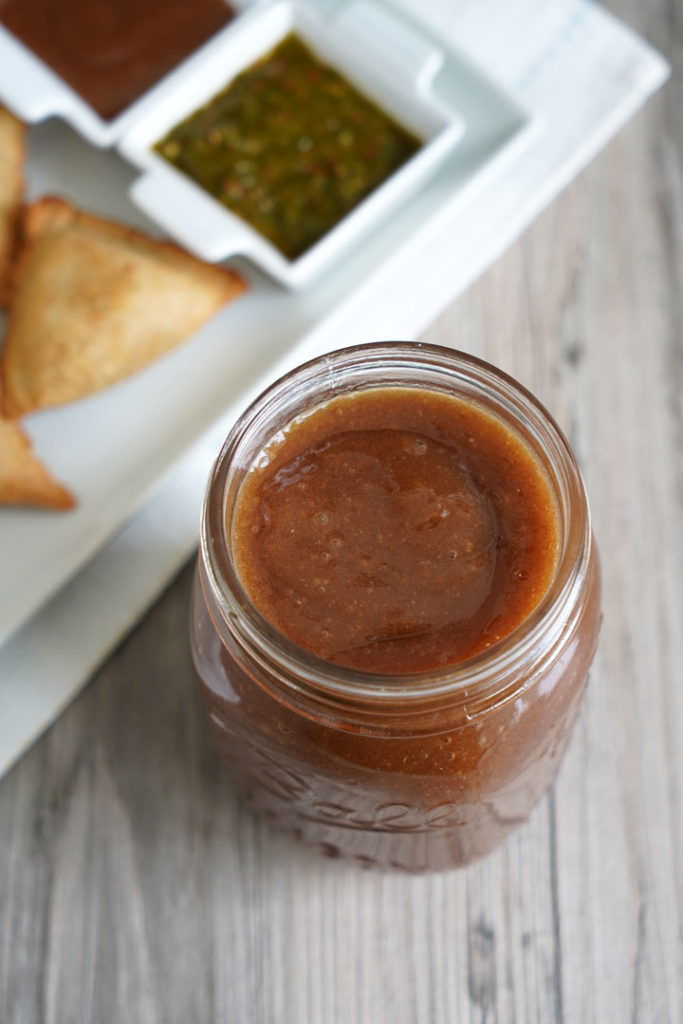 Heeeyyyy my fellow chaat fanatics! I'm bringing you a chaat food essential today- tamarind date chutney!
This sweet and sour chutney is used on everything from samosas, aloo tikki, bhel puri to ragda and pakoras. That's why I always keep a big batch in my freezer.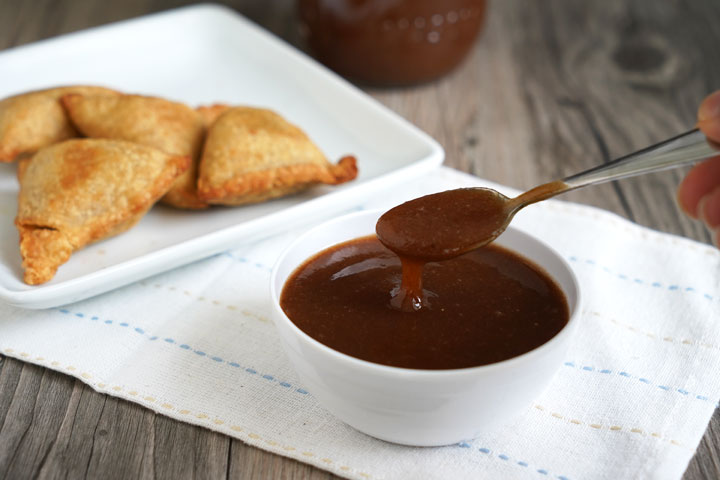 Yes, I am ALWAYS ready for some chaat food! It's my favorite kind of Mumbai street food. Indians sometimes refer to this tamarind date chutney as khajur imli chutney or sweet chutney but the tamarind makes it tangy too. Because it's often paired with the contrasting spicy cilantro chutney or green chutney, it is referred to as the "sweet" chutney.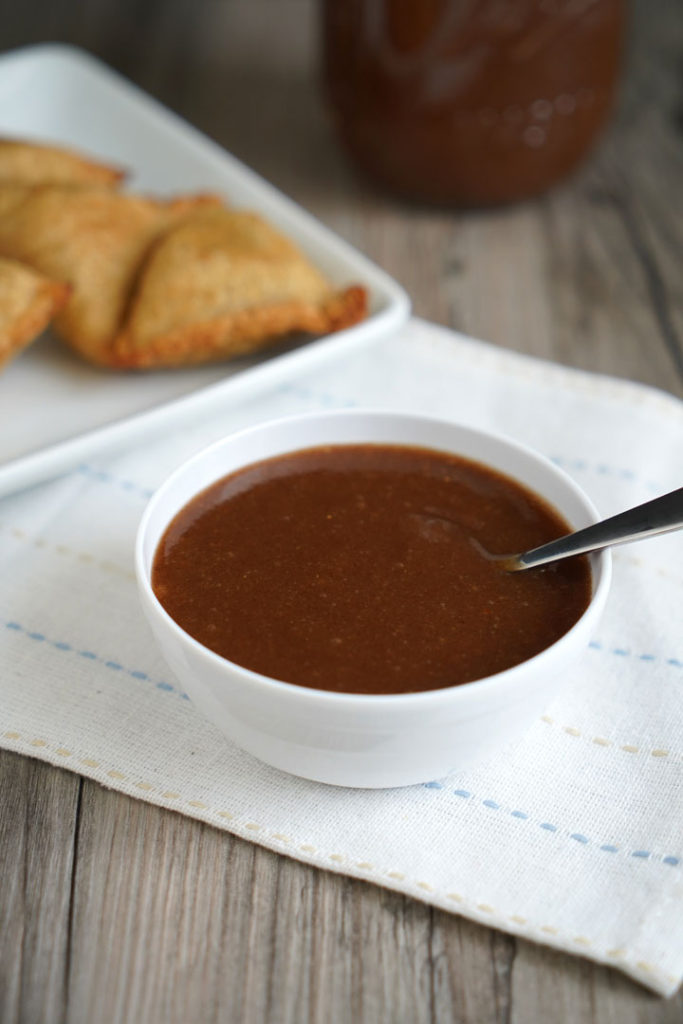 Ingredients for Tamarind Date Chutney
Besides dates and tamarind, this chutney is also made with jaggery, ground coriander and cumin, and dry ginger powder. Red chili powder can be added for a little extra kick but is not necessary.
You can use regular dates or Medjool dates for this recipe. I love the natural sweetness of Medjool dates and use them in my healthy dessert recipes.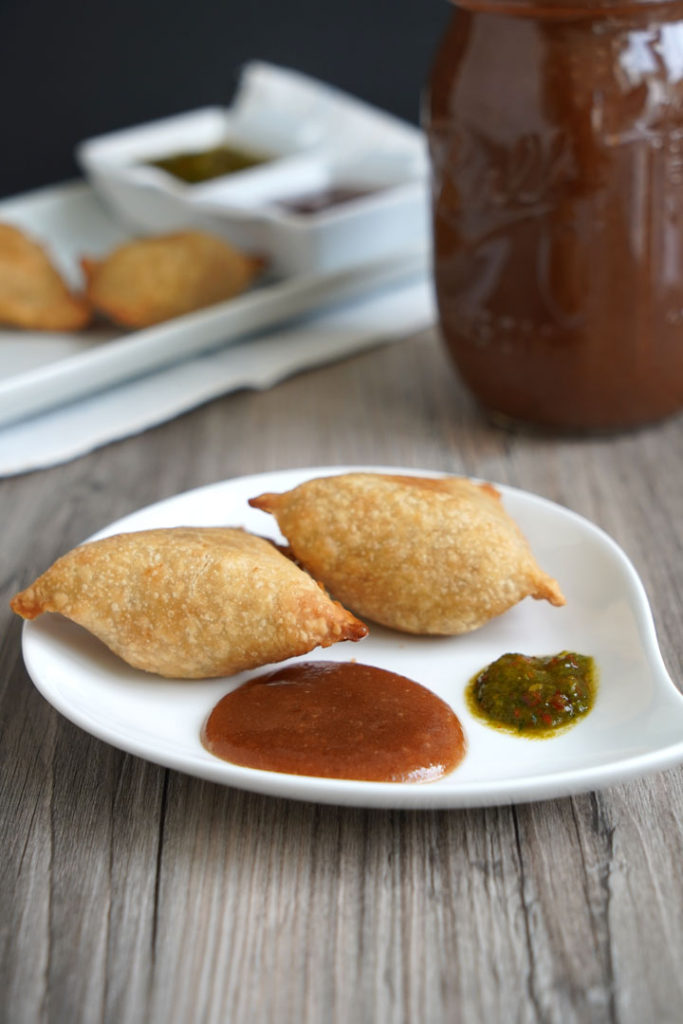 I have used both before in this date chutney but I find Medjool dates to be sweeter. If I use them I will often scale back on the jaggery.
For this recipe, I have also used homemade tamarind paste but you can buy tamarind paste or use seedless tamarind sold in blocks. See the recipe notes for using seedless tamarind.
How to Make Tamarind Date Chutney
To make sweet chutney, add the dates and water to a pot, bring to a boil, and simmer until the dates become soft. This should take 8-10 minutes.
Then add the jaggery and spices and let it all melt and become thick. Let it cool and run it through a blender until it becomes smooth.
Transfer it to a bowl and add the tamarind paste. This is where you need to be careful! Tamarind paste can come in different strengths depending on the brand.
Be sure to add it little by little and adjust according to your taste. You may not need the full amount, especially with store bought concentrates.
If you still see bits of dates, press the mixture through a sieve. Just prior to serving, you can adjust the consistency by adding water. You will want it thicker for samosa chutney and thinner for something like bhel puri.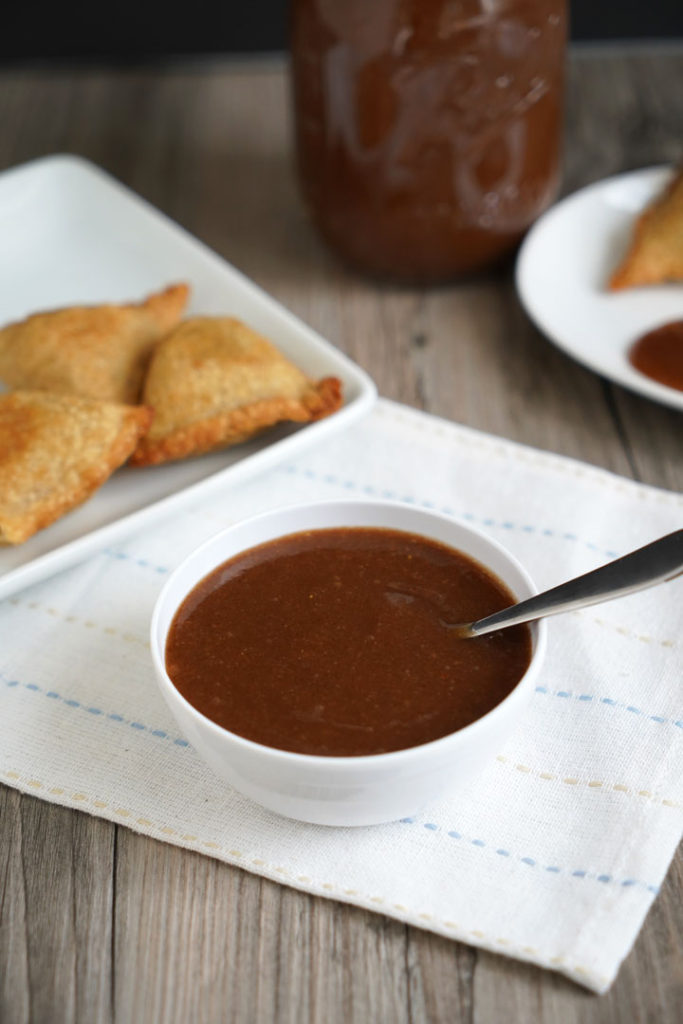 How to Store Tamarind Date Chutney
Store the chutney in a glass jar or air tight container in your refrigerator for up to 1 week. You can also freeze it for up to three months.
I like to freeze it in a large freezer bag in a flat layer so I can just break off the amount I need without defrosting all of it.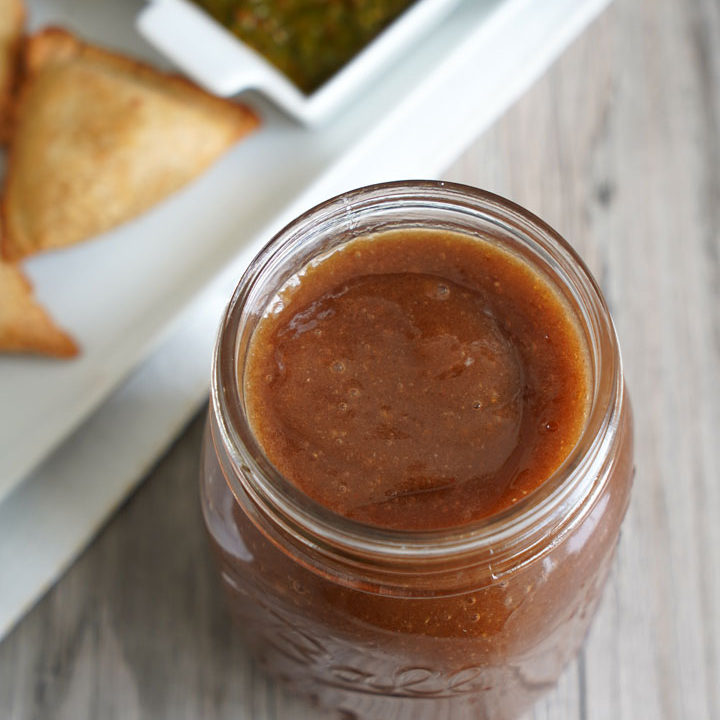 Tamarind and Date Chutney
Tamarind Date chutney is a sweet and sour sauce
that's perfect for dipping or drizzling. Use it on samosas, pakoras, paneer tikka and all your favorite Indian street foods.
Ingredients
1 cup dates, pitted
1 cup jaggery
1 teaspoon ground coriander
1 teaspoon ground cumin
1 teaspoon dry ground ginger
½ teaspoon red chili powder, optional
Instructions
In a medium sauce pan, bring the dates and 2 cups of water to a boil. Then, let it simmer for 7-8 minutes.

Add the jaggery and spices and let it simmer for another 2-3 minutes.

Remove the saucepan from the heat and cool completely.

Transfer the mixture to a blender and blend until smooth. Transfer to a bowl.

Stir in the tamarind paste. See note before adding!

If you still see small pieces of dates, press the mixture through a sieve.

Transfer and store in an airtight container in the refrigerator until ready to serve.

Before serving, adjust the consistency of your chutney with water. You may need a thinner chutney depending on how you are using it
Notes
Test the sourness of your tamarind paste and add it in accordingly. You may not need to use 1 whole cup. Store bought tamarind paste is often stronger than homemade.
If you are sensitive to spicy food, skip the red
chili powder or add less.
You can also use packed seedless tamarind blocks instead of paste. If you do, 1 cup of tightly packed seedless tamarind must be boiled in the first step along with the dates and you may need to add extra water when blending.
Recipe yields about 2 cups.
Nutrition Information:
Yield:

15
Serving Size:

2 Tablespoons
Amount Per Serving:
Calories:

94
Total Fat:

0g
Saturated Fat:

0g
Trans Fat:

0g
Unsaturated Fat:

0g
Cholesterol:

0mg
Sodium:

9mg
Carbohydrates:

25g
Fiber:

1g
Sugar:

21g
Protein:

1g
This nutrition information is only an approximate provided for convenience and as a courtesy only. Information comes from Nutritionix, an automated nutrition calculator.