Gujiya are Indian fried pastries stuffed with ground nuts and warm spices. They are sometimes also called ghughara or karanji. Gujiya is a popular treat during the festivals of Diwali and Holi.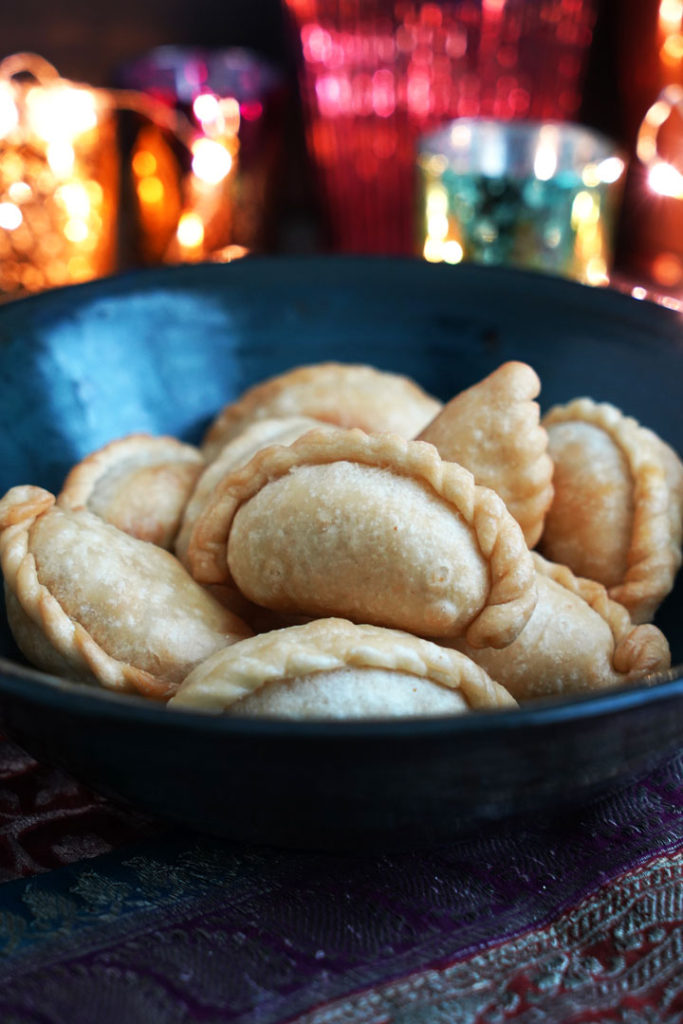 Yes, there are so many names for this special treat. And so many ways to spell ghughara- googhra, gughra, googra, ghughra. I actually took a poll before writing this post and got so many answers! Anyways...
Every year, my mom makes a batch load of traditional Diwali sweets for me and my siblings. I'm especially a fan of her ghughra (also known as gujiya or karanji), a fried pastry stuffed with well, all kinds of things really.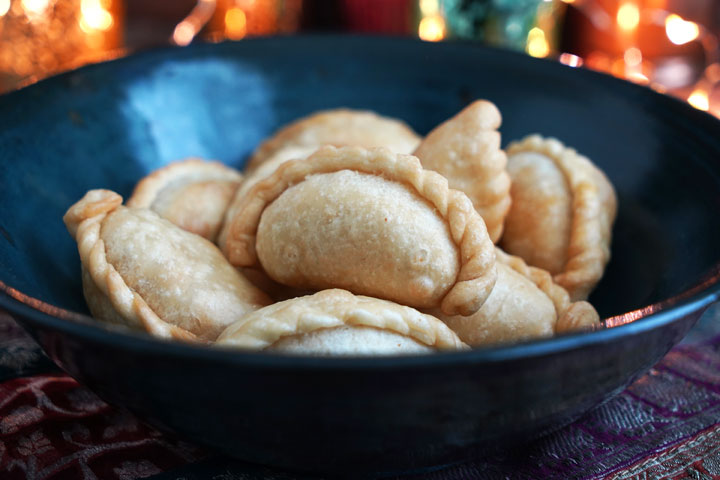 There is not any "traditional" way of making anything Indian. Traditions vary so much region to region. My mom makes her gujiya with ground almonds, sometimes ground pistachios, sooji, and of course sugar and spice.
This year I requested to watch how it's made so that I can share my mom's wonderful recipe with all of you.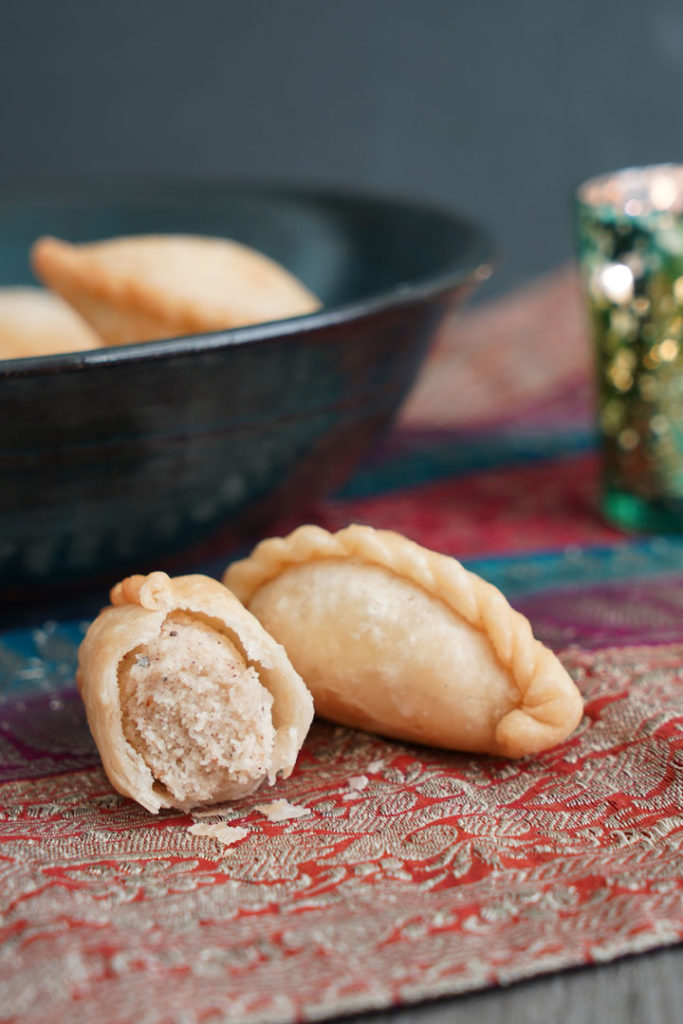 First, I want you to know that I was only observing and have not made these myself yet. If you have any questions though, I'm happy to ask the expert (mom) and get some answers for you!
How to Make Gujiya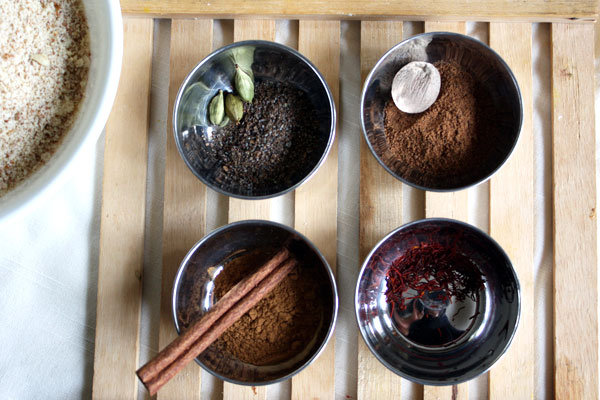 The spices we used in our ghughra were cardamom, nutmeg, cinnamon and saffron. All of my favorites! Because saffron needs to be warmed to give off flavor, it's added when cooking the sooji. (Sooji is an Indian granulated wheat similar to semolina.)
Once that's done, the rest of the spices, almond flour, and sugar are added to the mixture.

My mom grinds her own sugar to a powder to avoid any corn starch found in confectioners sugar. If you can find confectioner's sugar with no additives, that would be best.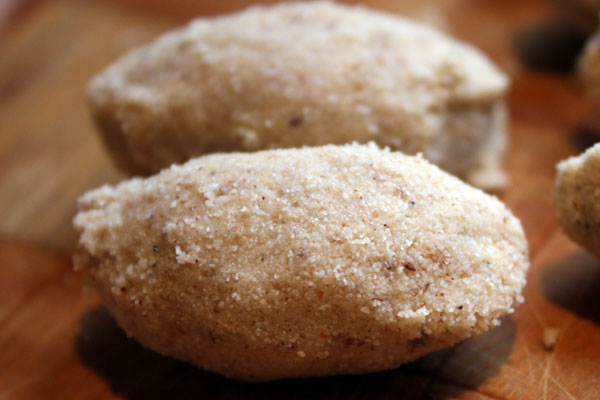 Once the sugar has been added to the mixture, we made football shaped balls of filling by pressing clumps with our fists.

Once you've made the dough, it gets rolled out into small 3-4 inch circles. The next part is the tricky because you have to wrap the dough circle around the filling and pinch the sides to make it look pretty!
Be sure to check out the video to watch how she folds the pastry!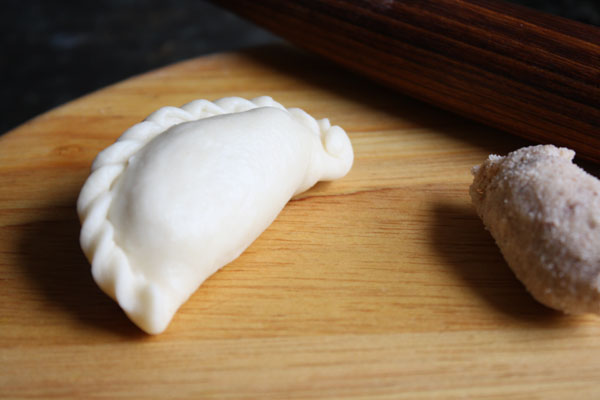 Finally, you let the gujiya dry for several hours. Not everyone does this step but this is my mom's way. This keeps them from bubbling up in odd places.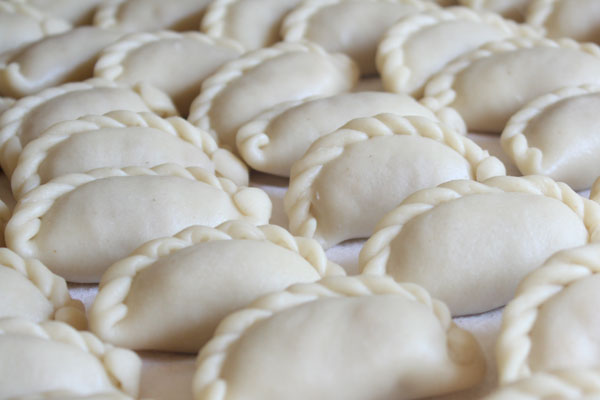 Once they are dry enough it's time to deep fry! Cool completely and enjoy!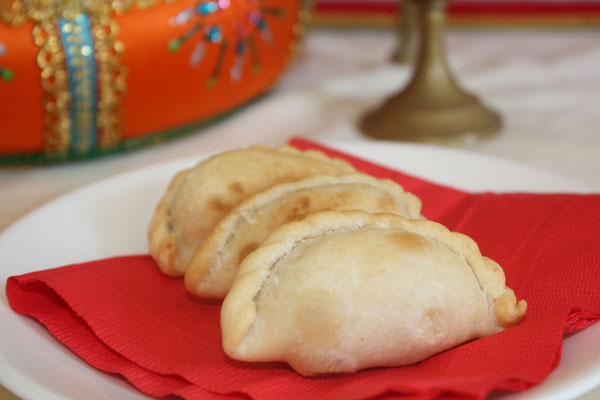 More Diwali Recipes
Pistachio and White Chocolate Bark
Gujiya (Ghughara) (Karanji)
Total Time:
1 hour
30 minutes
Gujiya are Indian fried pastries stuffed with ground nuts and warm spices. They are sometimes also called ghughra or karanji. Gujiya is a popular treat during the festivals of Diwali and Holi.
Ingredients
For the filling:
1 cup melted ghee, clarified butter
¼ teaspoon saffron
3 cups very fine sooji, found in Indian Grocery stores
2 cups almond flour
1 teaspoon cardamom
1 teaspoon cinnamon
1 teaspoon nutmeg
2 cups additive free powdered sugar, or 1 cup confectioners + 1 cup regular if you can't find additive free
For the dough:
2 cups all purpose flour
¾ cup corn starch
¼ cup melted ghee
⅜ cup sooji
½ cup confectioners sugar
½ cup water, this is approximate
Instructions
For the filling:
In a large pot, heat the ghee on high then turn to low. Add ¼ teaspoon saffron and add the sooji and stir on low until golden, fragrant and clumpy. It may take at least 10 minutes of constant stirring. You don't want any part of it getting brown.
Empty into another bowl so it stops cooking and cools. After it has fully cooled, add the spices and almond flour and mix. Finally, mix in the sugar. Form football shaped clumps of the filling by pressing together a tablespoon of the filling in your fist.
For the dough:
Combine the flour, corn starch, ghee, sooji, and sugar in the bowl of an electric mixer and stir on slow. Add the water a tablespoon or two at a time. You may not need all of the water or you may need more than ½ cup. The goal is for the dough to come together and be smooth but should not be overly sticky and wet.
Pinch off a piece of dough to form about an inch sized ball. Roll it out to a 3 to 4 inch diameter circle. It will shrink fast, but you can stretch it as you close the pastry.
Place the filling ball in the dough and begin close it into a half circle as shown below. Once it is sealed, you can fold over the edge to make a decorative finish the same way you would on a pie crust.Repeat the above process until you have made all of your ghugharas.
Let them dry for several hours or overnight. You want the dough to dry out some before frying. It should no longer be sticky on the outside and should be much easier to handle without losing it's shape. Deep frying before it dries will cause it to oddly bubble up (not pretty) and stay soft.
Deep fry each one in vegetable oil on medium heat. Be sure to place each one into the oil with the decorative side facing down first. Then turn them until both side are a pinkish golden color. Cool and store in an air tight container.
Nutrition Information:
Yield:

75
Serving Size:

1 gujiya
Amount Per Serving:
Calories:

75
Total Fat:

5g
Saturated Fat:

2g
Trans Fat:

0g
Unsaturated Fat:

2g
Cholesterol:

9mg
Sodium:

0mg
Carbohydrates:

7g
Fiber:

1g
Sugar:

2g
Protein:

1g
This nutrition information is only an approximate provided for convenience and as a courtesy only. Information comes from Nutritionix, an automated nutrition calculator.
SaveSaveSaveSaveSaveSave