Zucchini Ribbon Salad is tossed with a delicious limoncello lemon dressing. Light, healthy, and full of flavor.
I've been on a lemon kick lately. You might already know this since I've already shared my lemon quinoa salad and green bean salad with lemon harissa dressing. Well, I'm back with another delicious lemony salad. This spiralized raw zucchini salad is beautiful, tasty and fun. Turn your vegetables into noodles (or "zoodles") and even your kids will eat it!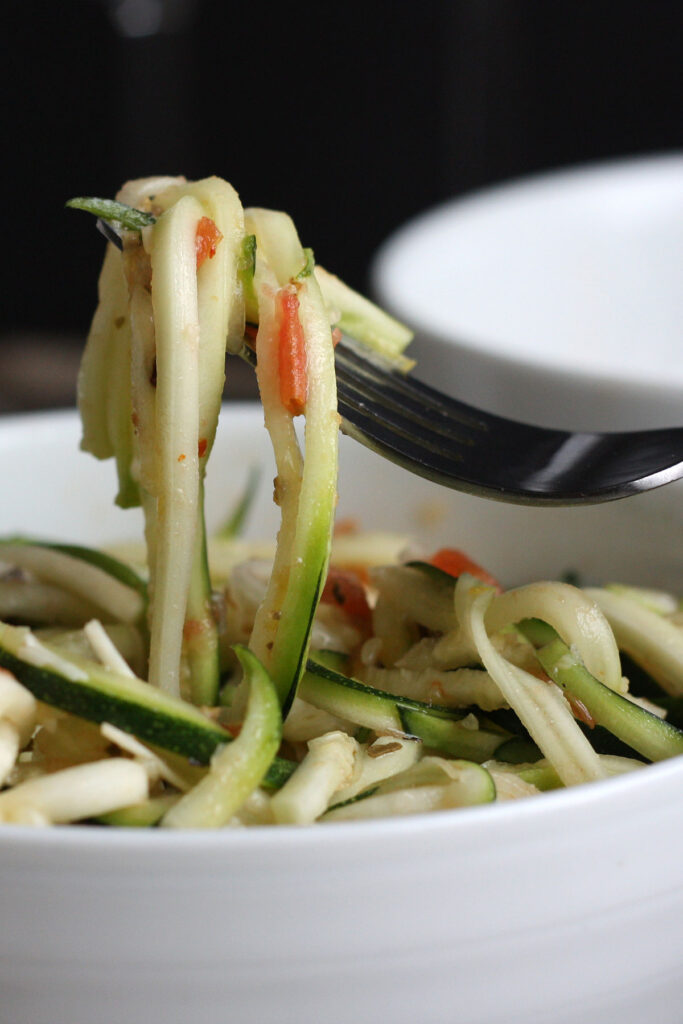 Recently, I caught Ina Garten making a seafood salad on the Food Network. The salad was not that interesting to me but what did catch my attention was the dressing.
Lemons, lemon zest and limoncello? Yes, please! Mixed with garlic, tomatoes and spices, I knew that dressing would go great with anything.
I opened my refrigerator to find two green zucchinis that were ready to be used in something. At that moment, I was wishing that I had chosen that vegetable spiralizer at the holiday white elephant party.
This dressing would be perfect for a zucchini noodle salad! Hmm…. maybe I should just cut up the zucchini julienne style with my trusty chef's knife? Nah! Too much effort.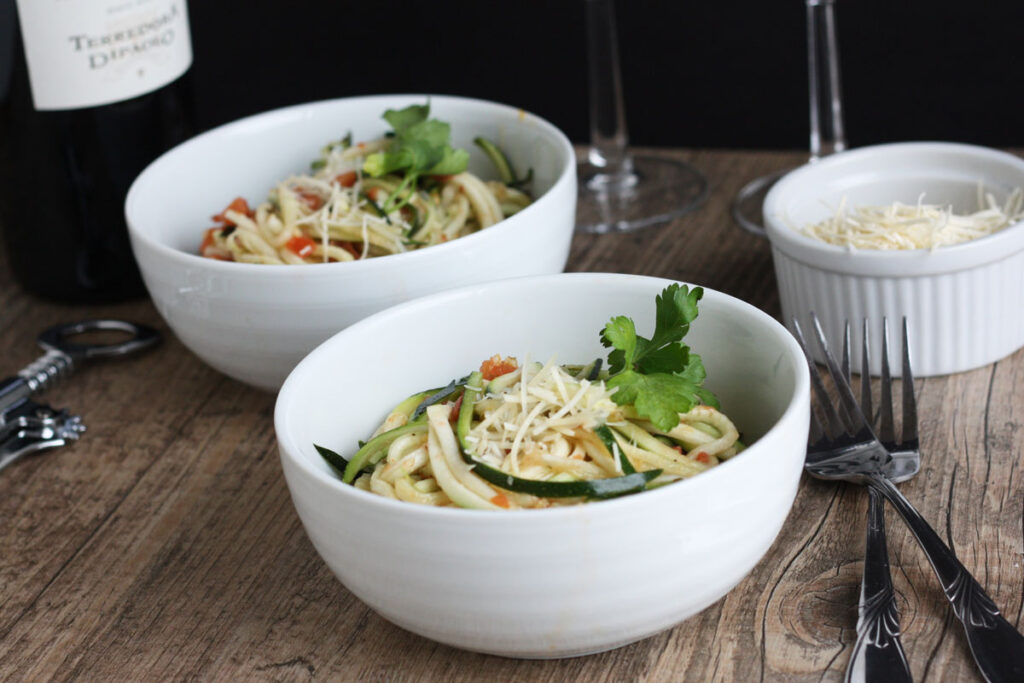 And then I remembered it… that super fancy mandoline that I had received many birthdays ago. It was all packed up in its box where it has been sitting for a long time. I had put it away because I used it once, got annoyed with its many parts, and never looked at it again.
Truthfully, I never gave it the time it deserved. I decided to give it a try again and I'm so glad I did. The mandoline's julienne blade makes beautiful zucchini noodles. I have a feeling I will be using this gadget a lot more. How about you? Are you spiralizing or ribboning your veggies?
I first shared this zucchini ribbon salad recipe on Food Fanatic so be sure to visit it there along with my other recipes.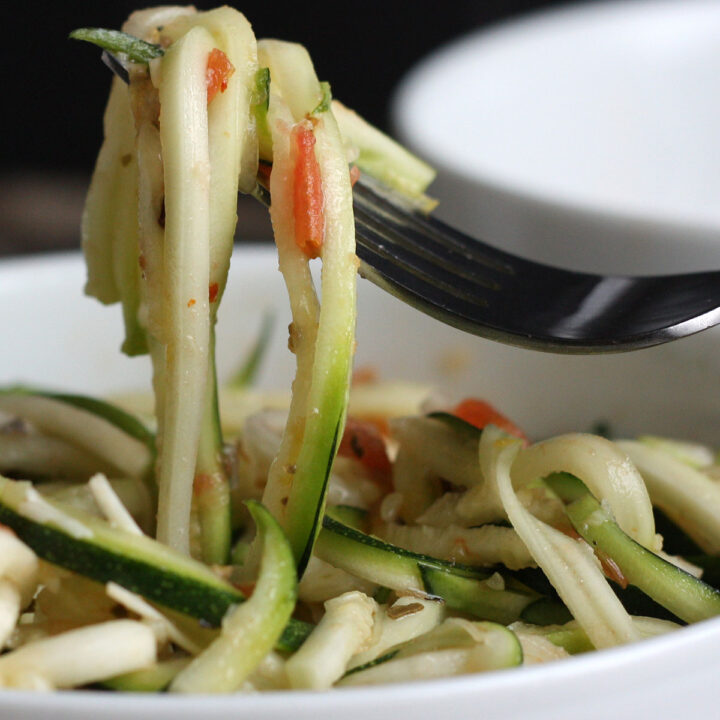 Zucchini Ribbon Salad Recipe
Zucchini Ribbon Salad is tossed with a delicious limoncello lemon dressing. Light, healthy, and full of flavor.
Ingredients
4 Zucchini Squashes
¼ cup Olive Oil
2 teaspoons Crushed Garlic
2 teaspoons Oregano
½ teaspoon Crushed Red Pepper
3 Plum Tomatoes, Seeded and diced
Lemon Zest, From one lemon
¼ cup Lemon Juice
¼ cup Limoncello
Salt and Pepper, To taste
Instructions
Cut the zucchinis into thin long strips using either a vegetable spiralizer or mandoline.
In a large pan, heat the olive oil over medium heat. Reduce the heat to low and add the garlic, oregano, and crushed red pepper. Stir with a wooden spoon and cook for 1 minute.
Add the diced tomatoes and cook for another 2 minutes over medium heat.
Add the limoncello, zest, and lemon juice. Stir and cook for 2-3 minutes.
In a large bowl, combine the zucchini noodles and the sauce. Gently toss to coat all the noodles. Salt and pepper to taste.
Optional- garnish with parsley and top with some parmesan cheese.