This recipe for pistachio and almond baklava is full of healthy nuts with a touch of chocolate. It's topped with a light layer of saffron syrup to give it just the right amount of sweetness.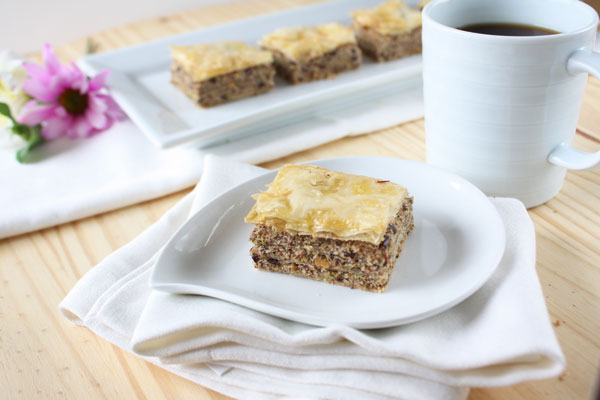 I was originally going to post this for Mother's Day but it's been a little hectic. So here I am writing about Mother's Day even though it's probably already long forgotten. I wanted to share a few thoughts and give you a recipe for baklava made my mom's way.
I don't really need a "Mother's Day" because it feels like Mother's Day every time I look at my little boy. It's a wonderful inexplicable feeling. As a mom, although it's nice, I could care less if I get a present, a card, or a hug from my child.
As a daughter, I really want to (not need to) buy a present, a card, and give hugs. Personally, thoughts of my own mother will always come before thoughts of my son on Mother's Day. So moms, who needs this day more? You or the child in you and your child? I could go on and on, but this is a food blog. So, I'll just leave it at that for you to chew on for a while.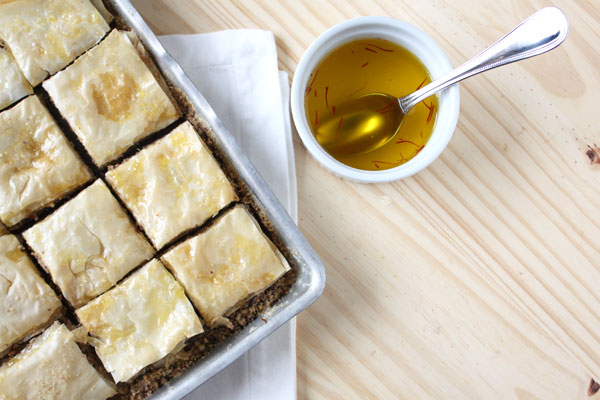 I'm so excited to share this baklava recipe with you. My Mom's recipe is quite different from traditional baklava. There's no stickiness and its not overly sweet because there is no honey.  She only uses a small amount of saffron flavored syrup.
I've grown up eating this version, so when I finally tried a more authentic version, I did not really like it much. If you've had baklava and don't enjoy the sticky syrupy part of it, I suggest you try this out.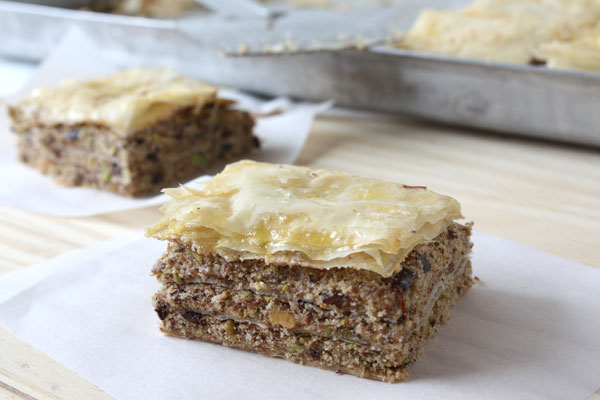 This is her way of making it but I could not help but add my own flair to it. I added some cocoa nibs to the filling mixture. I've had chocolate chip baklava before and find that the chocolate overpowers the other spices. The nibs on the hand let you taste everything else with just a hint of chocolate.
If you are not quite ready to make these, don't search for the recipe later, save it now and PIN it for later!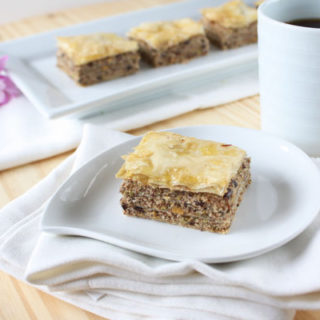 Pistachio and Almond Baklava
This recipe for pistachio and almond baklava is full of healthy nuts with a touch of chocolate. It's topped with a light layer of saffron syrup to give it just the right amount of sweetness.
Ingredients
20  9x14 inch phyllo sheets, 1 roll in a package of Athen's phyllo
5-8 Tbs of butter, melted (may need more depending on how you brush)
3 cups almond meal
1 cup pistachios
1 cup sugar
1 ½ teaspoon cardamom
1 Tbs cinnamon
½ teaspoon ground clove
⅔ cup cocoa nibs
For the syrup (I did not use all of it but this is how much I prepared)
½ cup of water
½ cup sugar
pinch of saffron
Instructions
Thaw the phyllo sheets according to the box instructions. Finely grind the pistachios. In a large bowl combine the almond meal, pistachio, sugar, cardamom, clove and cocoa nibs.
Preheat the oven to 350°F and generously butter a 9x14 inch tray that you are willing to cut in.
Lay down the first sheet and brush it with butter. Cover it with a second sheet and repeat until you have used a quarter of your layers. Make sure you have brushed the top layer with butter and the press down a third of your filling on top of the dough. Repeat this procedure so that you have 4 layers of phyllo and three layers of filling. Do not butter the top most layer yet!
Carefully, cut your baklava into 24 squares with a sharp knife. You must do this before baking as it becomes difficult to cut later. Gently use you brush to cover the top most layer with butter making sure you get butter into all the joints where you made the cuts.
Bake it for about 15 minutes and then turn the oven down to 200°F and bake for another 15 minutes. They should be close to golden brown.
Prepare the syrup while you wait. Mix the ingredients in a small pot and heat until the sugar dissolves. Remove the tray from the oven and gently brush the syrup over the tops and into the joints. Again, I don't use a whole lot here. I only use enough for a little bit of flavor and to make the layers stick. Getting it into the cut joints is key for this!.
Put the tray back in the hot oven and turn the oven off. It's done when everything has cooled .
Nutrition Information:
Yield:

24
Serving Size:

1 piece
Amount Per Serving:
Calories:

345
Total Fat:

29g
Saturated Fat:

13g
Trans Fat:

1g
Unsaturated Fat:

14g
Cholesterol:

51mg
Sodium:

187mg
Carbohydrates:

20g
Fiber:

3g
Sugar:

14g
Protein:

5g
This nutrition information is only an approximate provided for convenience and as a courtesy only. Information comes from Nutritionix, an automated nutrition calculator.
SaveSave
SaveSave
SaveSave