Remember two weeks ago when I made my accidental tour of Limelight Marketplace? Well, I mentioned that I made an interesting discovery while browsing at Whisk. It was this modern cake server from Magisso, a Scandanavian company.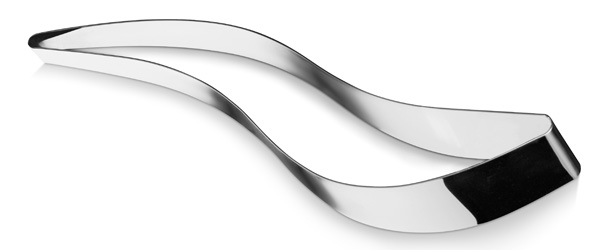 I was immediately attracted to its sleek design and the high quality stainless steel. But of course, being the skeptic that I am, I questioned it's functionality. The salesperson at Whisk was assured me it works great and told me to see how it works on You Tube.
Pretty neat huh? Cut neat uniform pieces every time without having it topple over as you try to get it onto the plate. It looks great and would make a nice little gift too!
I'd say the only down side is that it's not ideal for non-round cakes and has a steep price (which is why I did not immediately buy it myself!). The gadget sells at Amazon. (Update March 2018-The price on Amazon has dropped.) Though not as classy, they do make cheaper plastic versions in these other colors for only $20: