This was my first time attempting to make panna cotta with gelee. This recipe uses agar agar instead of gelatin. It is not the perfect recipe but can be tinkered with to achieve better results.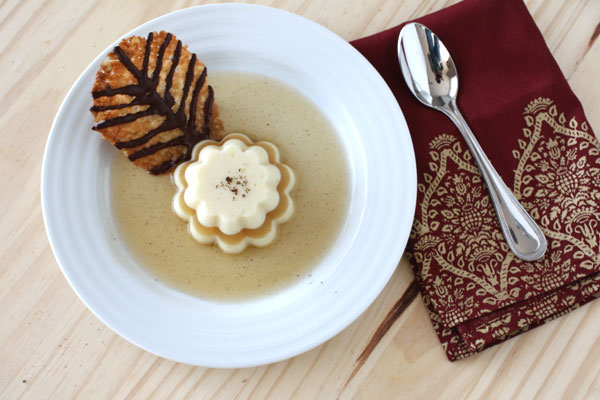 First, an explanation of my absence: My blog has seriously slowed down and I've been MIA because I have started a part time job teaching again. Things should slow down soon and hopefully the blog will pick up again! I really do miss it!!! And now for this month's Daring Baker's challenge reveal...
Let me start by saying that I was not pleased with the results that I got here at all. So if you are looking for a gelatin free, agar agar panna cotta recipe that is fool proof then you are in the wrong place. However, if you are willing to tinker with this one, it might just work out for you. This recipe has great flavor but is missing the right texture. I'm posting this in the hopes to have some sort of discussion of what went wrong. (And also because it was this month's Daring Bakers challenge!) I categorize it as one of my more "sciency" posts.
I've had this recipe for a ginger panna cotta with lemon gelee served with a vanilla honey sauce and tuile cookie ever since I had to develop it for culinary school. It was part of a project where we had to create our own menus. Unfortunately, it was never one of the recipes that got tested. So I was excited to see that this month's challenge was to make panna cotta with florentines.
The February 2011 Daring Bakers' challenge was hosted by Mallory from A Sofa in the Kitchen. She chose to challenge everyone to make Panna Cotta from a Giada De Laurentis recipe and Nestle Florentine Cookies.
I decided to test the recipe as I had written it and did not follow the procedure in the Daring Bakers recipe. (This may be the first part of the problem.) Second, being vegetarian, I really wanted to substitute the gelatin in my recipe with agar agar. (This is the second part of the problem since I do not have too much experience with agar agar).
I've been playing around with agar agar flakes lately and still have not figured out how to make it work in place of gelatin. After some research and consulting with  Aparna from My Diverse Kitchen (a talented baker and fellow vegetarian), I decided to change the lemon for pear since agar agar does not work so well with acidic juices. The gelee turned out wonderful.
The panna cotta on the other hand did not. Somewhere in the process the panna cotta lost its creaminess. My guess is that I used too much agar agar in the panna cotta and that I should not have cooked it first. By cooking it first to infuse the ginger flavor, I had already thickened the cream quite a bit. After soaking the agar agar in the already cooked and strained cream, I reheated over the stove for a long long time. That agar agar just would not melt all the way and the mixture was getting really really thick.  I think it would have been wise to add the agar agar with the milk and cream first, let it soak, then cook it and strain out the ginger.
If you used agar agar in your panna cotta, I'd love to hear about it!  This recipe has a wonderful flavor combination especially when served with the vanilla bean honey sauce.
Here's the recipe...that still needs development... (makes two servings)
For the ginger panna cotta:
¾ cup milk + 2 Tbs milk
½ cup + 1 Tbs heavy cream
¼ cup sugar
1 Tbs fresh shredded ginger
1 ½ Tbs agar agar flakes
In a saucepan, combine the milk, cream, sugar, and ginger. Bring it to a boil stirring occasionally. Reduce heat and simmer for 2 minutes. Strain mixture and let it cool. Add the agar agar flakes and let it soak for 20 minutes. Boil the mixture and stir to dissolve the agar agar. Strain it and let it cool to room temperature.
For the pear gelee:
1 cup pear juice
75 g sugar
1 Tbs agar agar flakes
In a saucepan, combine the juice and sugar and let it boil. Pour half of the juice into a container. Add the agar agar flakes to the remainder and let it soak for 20 minutes. Boil the mixture and stir until dissolved. Add it to the reserved juice and let the entire mixture cool.
Pour a portion of your cream mixture into your mold and let it set in the refrigerator. Then pour or spoon some of of your juice mixture over the cream and let that layer set. Pour or spoon more cream mixture over the top and let the whole thing set in the refrigerator over night.
For the vanilla honey sauce:
½ tbs corn starch
50 g sugar
80g honey
115 g water
1 teaspoon vanilla bean paste
Combine all of the ingredients into a pot over a double boiler, stir and heat until its is dissolves and thickened.
For the florentine cookies:
⅓ cup butter, melted
1 cup oats
½ cup sugar
⅓ cup all purpose flour
⅛ cup dark corn syrup
⅛ cup milk
pinch of salt
½ teaspoon vanilla
2 ounces of dark chocolate, melted
Combine all the ingredients in a bowl and mix until combined. Drop spoonfuls onto a silpat or parchment lined cookie sheet and flatten the balls with the back of the spoon. Make sure they are well spaced! These cookies spread. Bake at 375 F until golden brown. Allow them to cool completely on the cookie sheet. Drizzle and or decorate with melted chocolate.
SaveSave
SaveSave