Kale Barley Salad is a hearty, healthy lunch or dinner that's good winter and summer alike.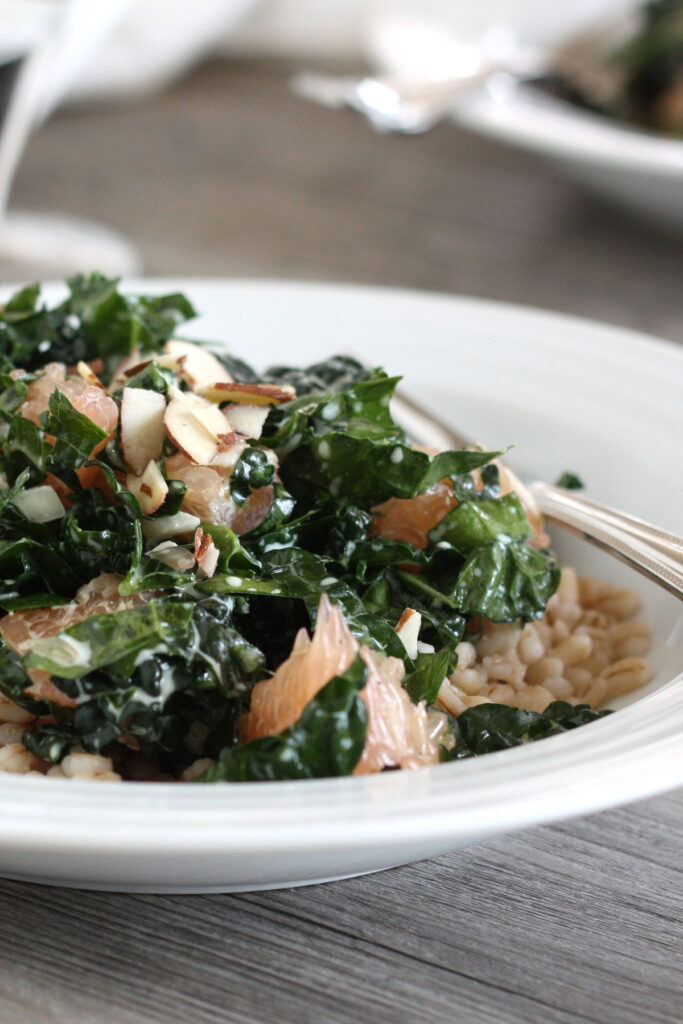 When I first discovered kale, it was all about making kale chips and they were delicious. Then I started adding raw kale to my smoothies and green juice. Its bitter taste and tough texture was barely noticeable once it was blended and mixed with fruit. And now I think I've moved on to kale salads.
The first time I made a kale salad, it was incredibly difficult to eat. I was still a kale novice and did not know just how bad it was raw. I've since learned some tricks.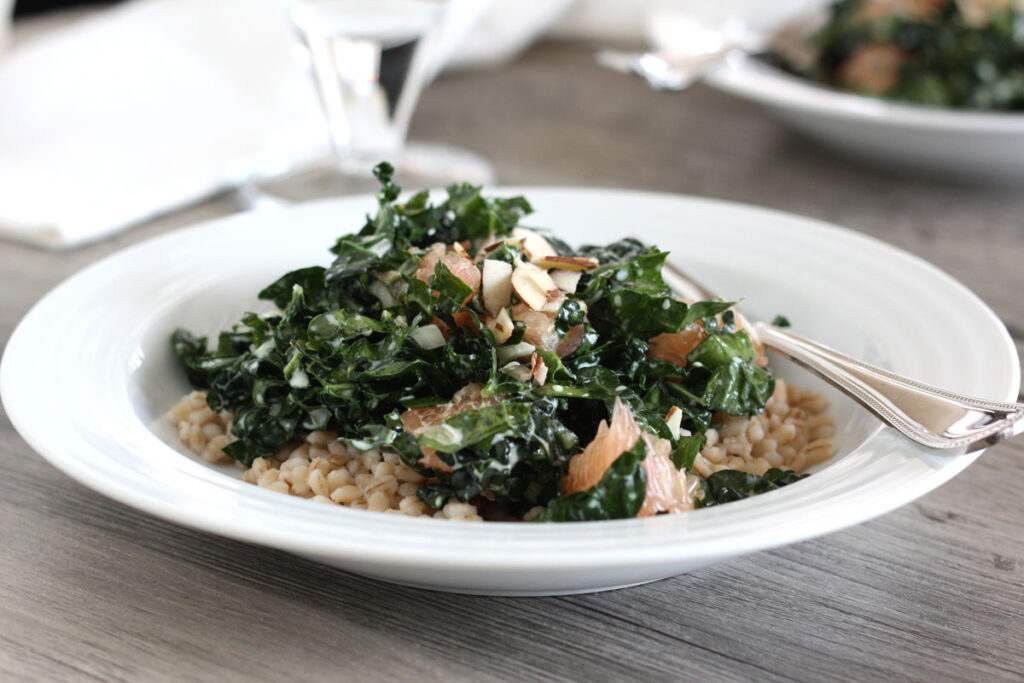 First, chop up the kale into small pieces or shreds. It makes it easier to coat each piece with your dressing. Second, use citrus somewhere in the recipe. The acids help the kale leaves soften and wilt, making them easier to chew.
Finally, my most recent kale discovery was lacinato kale or dino kale. I don't know what it is, but to me it just looks better and tastes better than the curly kale. Plus, I find it easier to wash and prep because the leaves are bigger.
I'm sure you've seen tons of kale and lemon recipes out there but a grapefruit works too. It also goes great with the cumin in this dressing.
I sprinkle cumin on all kind of fruits- it's an Indian thing. (Really, try it out on your watermelon or with guava, my favorite.) So naturally, when I decided to put grapefruit into the salad, I knew cumin had to be in the dressing.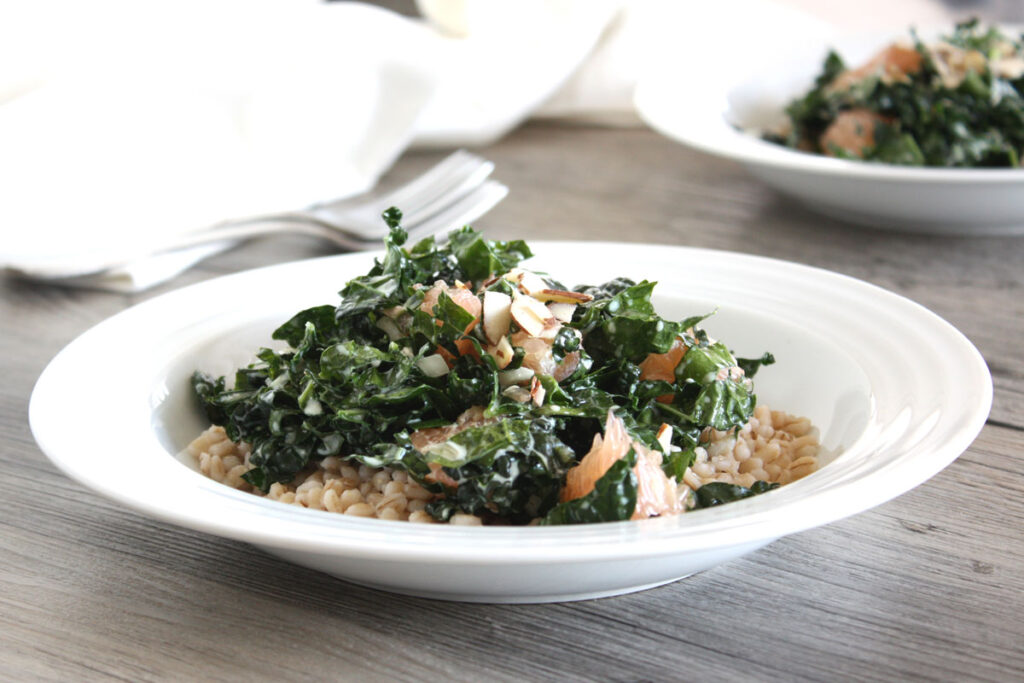 Since I was trying to make a lunchtime meal out of my salad, I also added some barley to it. Barley has been my new go-to grain.
It's great in salads and even soups like my hearty vegetable barley soup. I love its chewy texture. It takes a little time for it to cook but there's no need to let it cool for your salad. Personally, I think the kale salad served over warm barley is even better than having it cold.
So go ahead and give it a try. It's another easy delicious way to reap the health benefits of raw kale.
I first shared this kale and barley salad recipe on Food Fanatic so be sure to visit it there along with other great recipes.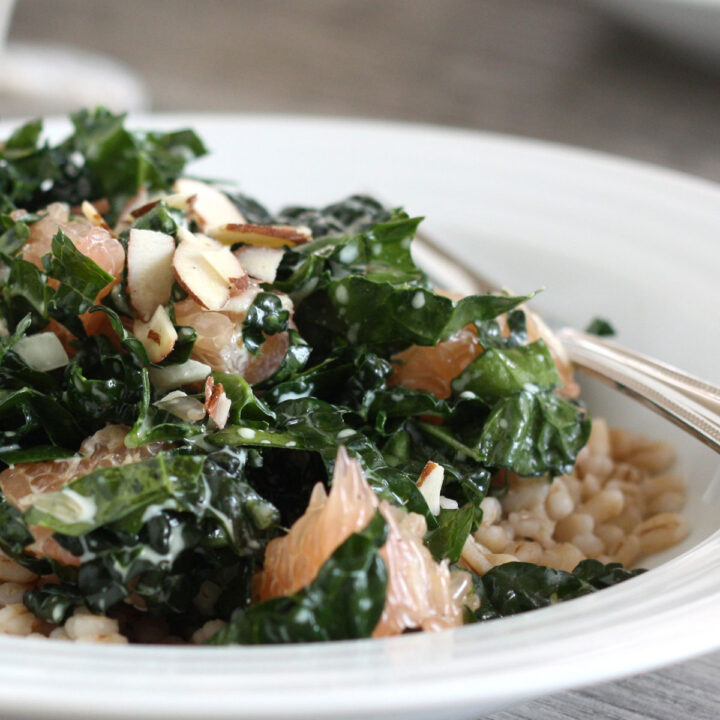 Kale Barley Salad
Kale Barley Salad is a hearty, healthy lunch or dinner that's good winter and summer alike. 
Ingredients
1 cup Pearled Barley
12 leaves Dinosaur Kale, chopped
1 tablespoon Olive Oil
¼ teaspoon Sea Salt
1 Ruby Red Grapefruit
½ cup Plain Greek Yogurt
½ cup Sweet Onion, diced
1 teaspoon Ground Cumin
¼ cup Slivered Almonds
Instructions
Combine the barley with 2 ½ cups of water and bring it to a boil. Cover and let it simmer for 30 minutes or until the barley is soft and chewy. Drain any excess water.
Massage the oil and salt into the chopped kale leaves.
Peel and segment the grapefruit and cut the slices into thirds.
Toss the grapefruit pieces into the kale, letting the juices mix, and let it sit for 15 minutes.
Mix the yogurt with the onions and cumin and combine it with kale. Salt and pepper to taste.Serve the kale salad over the warm barley and top with almond slices