Nutella bars with frangipane are so good you won't be able to keep your hands off them. Buttery shortbread topped with Nutella and frangipane.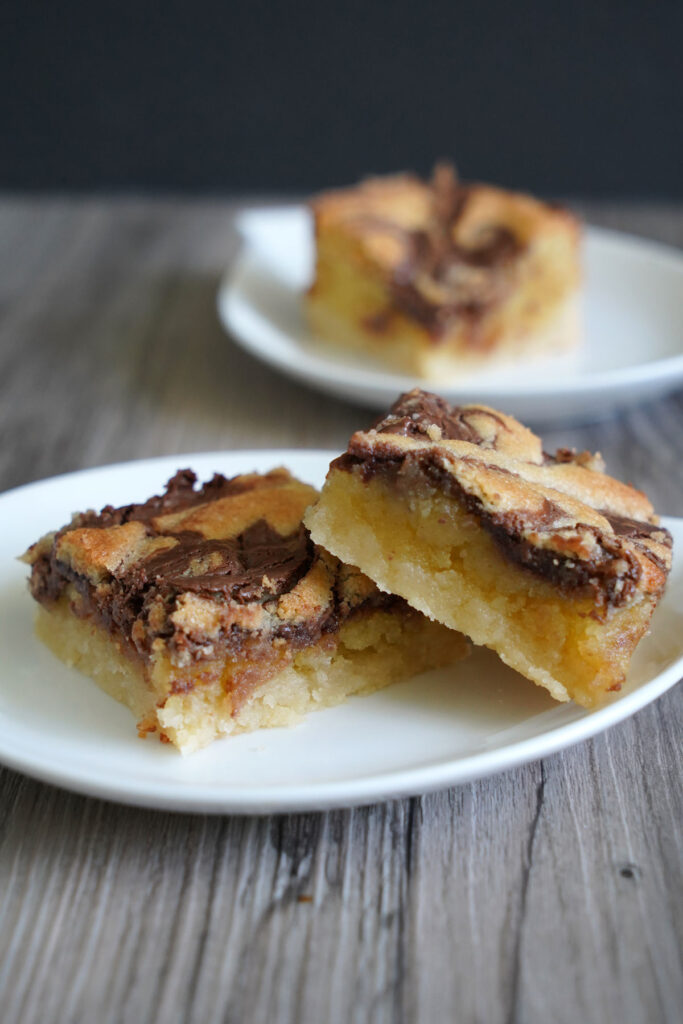 This is a remake of an old recipe. Rather than replace it, I kept the old one too because it turned out to be very different. My old Nutella shortbread bars had the added crunch of sliced almonds along with the frangipane. 
These new Nutella Frangipane Bars are smoother and I've skipped the layer of almonds. They also have a pretty swirly design!
I love the taste and feel of frangipane (also known as almond cream). What is frangipane, you might be asking? It's a filling made with almond meal, eggs, butter, salt and a little bit of flour. It bakes a little fluffy like cake but tastes somehow smoother.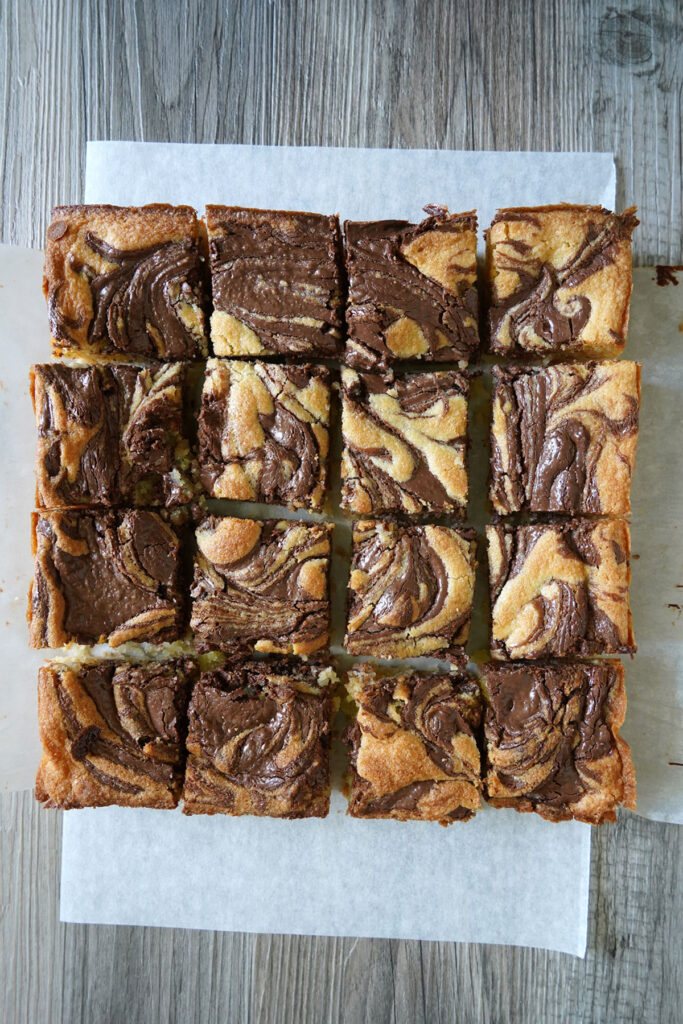 Frangipane is usually paired with fruits such as in a pear tart or cherry tart. I wanted to change things up a bit so I paired it with my favorite hazelnut spread and it did not disappoint.
Why You Should Make There Nutella Frangipane Bars
It's EASY. Don't let the term frangipane scare you. It's actually a very easy and forgiving classic French recipe. No need to worry about curdled eggs like in traditional pastry cream.
So BUTTERY. Uhm who doesn't love a buttery crust?
NUTELLA. Enough said.
How to Make Nutella Frangipane Bars
Make these bars by first preparing a shortbread crust as your base layer. Mix the butter, sugar, and vanilla until light and fluffy. Add the flour and salt until it all comes together. Press it into a greased 8x8 pan and chill.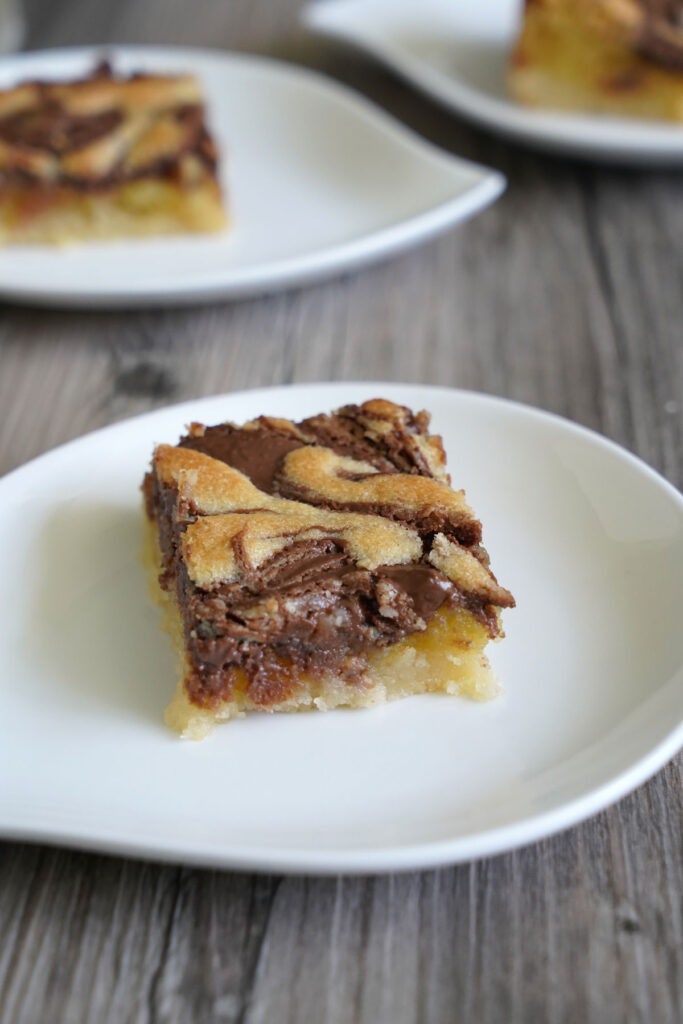 The frangipane mixture can be made while the crust layer chills. Combine all the frangipane ingredients in a bowl and mix until smooth and combined.
You can also make a batch of frangipane filling ahead of time and store it in the refrigerator until ready to use. Just be sure to bring it to room temperature and give it a good mix before trying to spread it.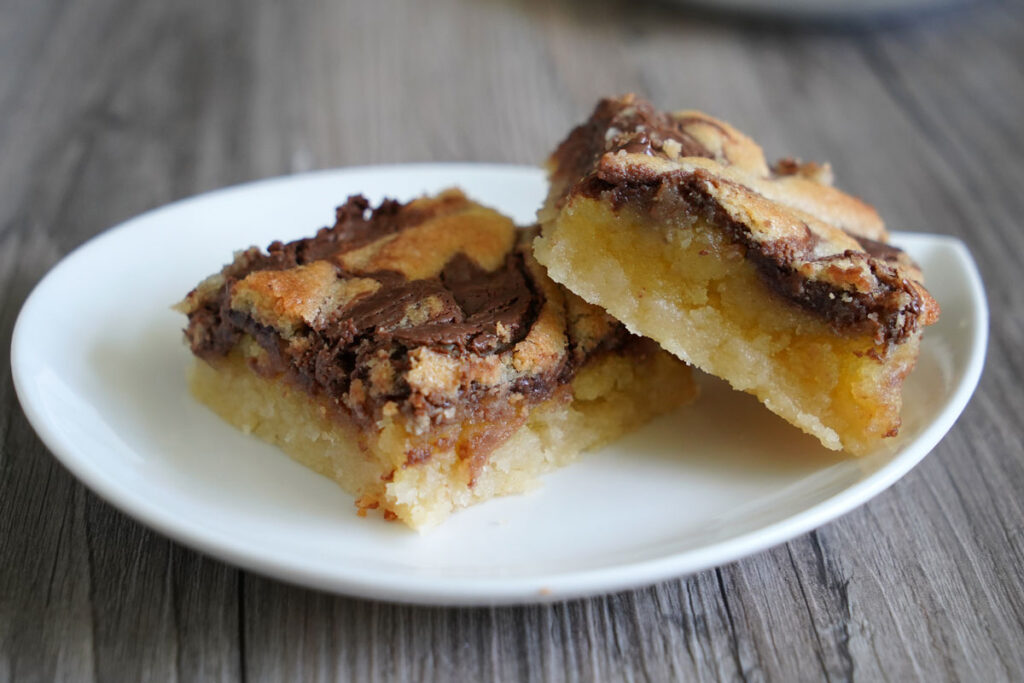 Spread the frangipane over the chilled crust layer. Finally, drop in spoonfuls of Nutella into the frangipane and swirl it in with the tip of a butter knife. That's it! It's ready to bake and be enjoyed.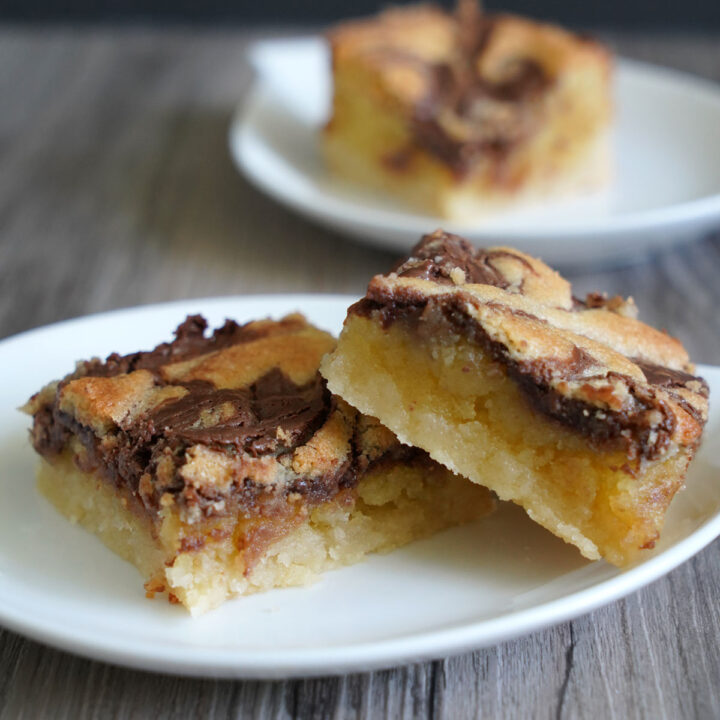 Nutella Frangipane Bars
Nutella bars with frangipane are so good you won't be able to keep your hands off them. Make a batch (or two) today!
Ingredients
For the Crust
1 cup all purpose flour
¼ cup sugar
¼ teaspoon salt
½ cup unsalted butter
½ teaspoon vanilla
For the Frangipane Nutella Layer
1 ½ cups almond flour
½ cup plus 2 TBS sugar
½ cup unsalted butter, cubed and room temperature
2 eggs
2 Tablespoons flour
10 mL of chocolate liqueur or any liqueur of choice, optional
½ cup Nutella
Instructions
For the crust:
Grease an 8x8 pan with butter and line it with parchment paper.
Using an electric mixer, beat the butter and sugar until light and fluffy. Beat in the vanilla.
Scrape down the sides of the bowl with a spatula. Add the flour and salt and mix on low until it comes together in clumps.
Press the mixture into the bottom of the pan and smooth it out with the back of an offset spatula. Chill the pan in the refrigerator while working on the frangipane.
For the frangipane:
In an electric mixer, cream the remaining butter, sugar and almond flour until light and fluffy.
Scrape down the sides of the bowl with a spatula. Add the egg and mix to combine.
Add the cornstarch (or flour) and mix until incorporated. Finally add the optional liqueur and mix.
Assembly:
Carefully spread the frangipane over the crust. Make it as smooth as possible on the top.
Drop in the Nutella using a teaspoon, spreading the drops throughout the pan.
Insert the tip of a butter knife into the top layer and move the knife around cutting through the Nutella drops to get a swirl pattern.
Bake at 350°F for 20 minutes or until the almond cream is evenly browned and set.
Let the bars cool completely in the pan before cutting.
Notes
The crust and frangipane layer can be made without an electric mixer. Just be sure to use softened butter so you can mix well with a wooden spoon. 
You can serve these bars at room temperature but I find that these bars taste best when chilled.
Nutrition Information:
Yield:

16
Serving Size:

1 bar
Amount Per Serving:
Calories:

270
Total Fat:

20g
Saturated Fat:

10g
Trans Fat:

0g
Unsaturated Fat:

9g
Cholesterol:

54mg
Sodium:

50mg
Carbohydrates:

19g
Fiber:

2g
Sugar:

10g
Protein:

4g
This nutrition information is only an approximate provided for convenience and as a courtesy only. Information comes from Nutritionix, an automated nutrition calculator.