This is a sponsored post from Epicurious. All opinions, text, and photos are mine.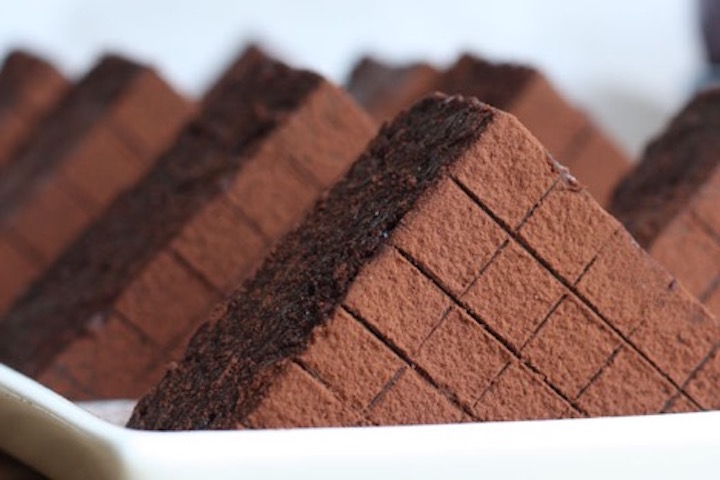 Call me a perfectionist, a food snob, or just crazy, but I like my food to look beautiful. When it comes to brownies, cupcakes and cookies, the word elegant does not come to mind. That all changed one day thanks to a small bakery owner.
When I was in culinary school, I had interned at Amai, a NYC tea shop that seemed to be more popular for its baked goods. I couldn't help but admire the bakery case full of shortbread tea cookies.
I'm not even a fan of shortbread cookies but they were just so beautifully shaped that I just had to have one!
The founder of the bakery had once explained to me that she was very particular about everything being neat and streamlined. This was her personal touch on her baked goods and it's what attracted customers to the bakery case.
She worked with her pastry chef to come up with ways to make even scones and chocolate chip cookies look perfectly shaped. They always used a ruler to cut their scones and bars so that each piece was the same size.
Everything they did was meticulous. After watching their process and thinking about my own reactions to the display case, I realized the power of food's visual appeal.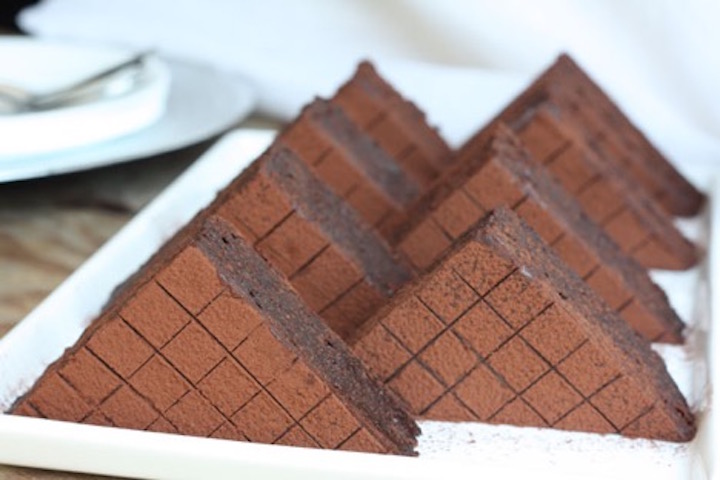 If I see a case where the goodies are all the same shape and are neatly placed in rows, I seem to want it more. Attention to detail can make all the difference whether it's your customer or even your dinner guest.
I took this lesson home with me and entertaining has never been the same.  I strive to make even brownies look good. Today I will share some tips on how to cut perfect brownie squares, or in my case, triangles!
How To Cut Perfect Brownies:
Prep your pan the right way. Dab the bottom and sides of the pan with some butter. It should be enough to make parchment paper stick. Place a sheet of parchment paper over the bottom and up the sides to at least 1.5 inches. Crease the sides against the pan so it does not bunch up. If it bunches, the edge of your brownies will be misshaped.
Chill the whole slab. Do not attempt to remove or cut brownies straight from the oven. Let the pan cool for 30 minutes on a cooling rack and then transfer to the refrigerator overnight. Once chilled, loosen the sides from the pan by running a small knife between the parchment and the edges of the pan. Tilt the pan, and gently remove the slab by pushing on the back of the pan and gently pulling on the parchment edges. Place the whole slab on a cutting board. There is no need to remove the parchment while cutting.
Use a ruler. I keep an architect ruler in the kitchen drawer exclusively for food preparation .The shape of an architect ruler makes it easier to lift from the sides. (So you don't mess up frosting and other decorations when lifting the ruler away.) Trim a ¼ inch off the edges and measure out your cuts before slicing by making small score marks with your knife.
Make clean cuts. Make your cuts by pushing a large chef's knife straight down to the board and pull it slowly out, not up. If you run the knife across instead of straight down, you will end of up with crumbly sides and messy frosting. Clean and dry your knife with hot water before each and every cut. This seems like a big pain but trust me, a clean knife always makes a clean cut.
Hide imperfections. If neat cuts are not enough, think up creative ways to hide the imperfections. The ganache layer of these brownies had some wrinkles but a dusting of cocoa powder over the top took them away.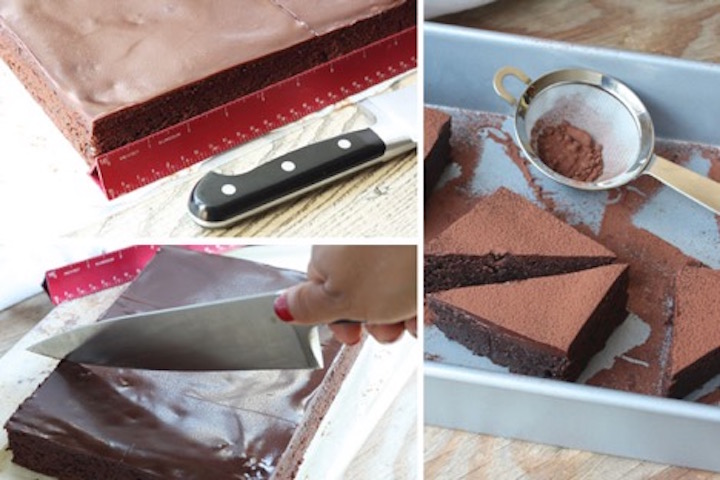 The brownies shown in the pictures were made from a recipe in Connie Weis's book Extreme Brownies, an excellent collection of beautiful brownie recipes!
I hope you enjoyed my tidbit about how one food entrepreneur influenced my baking. Hopefully I've inspired you to try out a new way to present your brownies and bars.
Want to meet purveyors who are making a difference with their customers? Check out BonAppetit.com's "Out of the Kitchen", an ongoing exploration of the relationships that build and sustain the food industry. See how hyper-local food markets operate and how their focus on quality and service keep customers coming back for more.
SaveSave
SaveSave