This all American dessert buffet is the perfect spread for your next July 4th celebration. Each mini dessert celebrates American in its own way. They are easy to make and sure to be a crowd pleaser.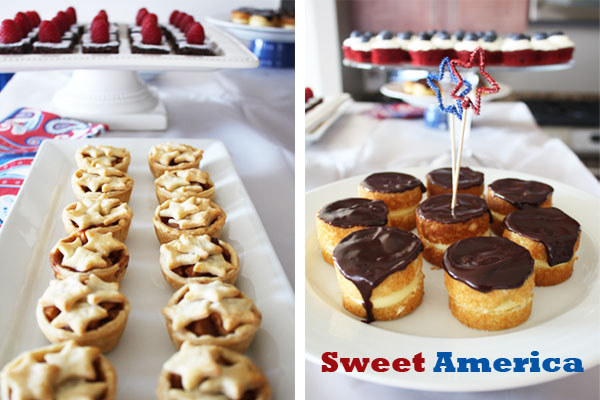 Here are some patriotic dessert ideas you can use now or store away in your bookmarks and recipe files for next year.
It's easy to create a nice variety with these items because much of it can be done ahead of time and some of them are even semi homemade.
I picked out a few "All American" desserts and prepared them in bite size portions. Why choose? Enjoy them all!
The Best Brownies:
It's unclear when and where brownies originated but one thing is for sure...these chocolate delights were born in the USA! These brownies were made from scratch using Ghirardelli chocolate, topped with a thin layer of chocolate glaze and cut into 1 ½ inch squares.
To fit them into my patriotic color scheme they were dusted with powder sugar and decorated with fresh raspberries.
I don't have the same recipe up on the site you can use my classic brownies recipe which is very similar. Oh and if you like the look but don't have the time for baking completely from scratch then just use your favorite boxed brownie mix and follow my decorating ideas.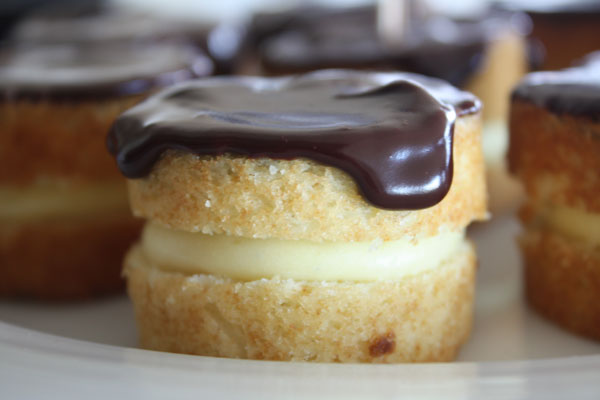 Boston Cream Pie:
It's actually a custard filled cake, not a pie. I just learned this too. This was the first time I had ever eaten Boston Cream Pie and it was delicious!
I got these to bake perfectly round in my mini cheesecake pan using this recipe from Epicurious.
Boston Cream Pie is credited to a French chef who first made it at the Parker House Hotel in Boston in 1856. Today it's the official dessert of Massachusetts. Who knew that states have official desserts??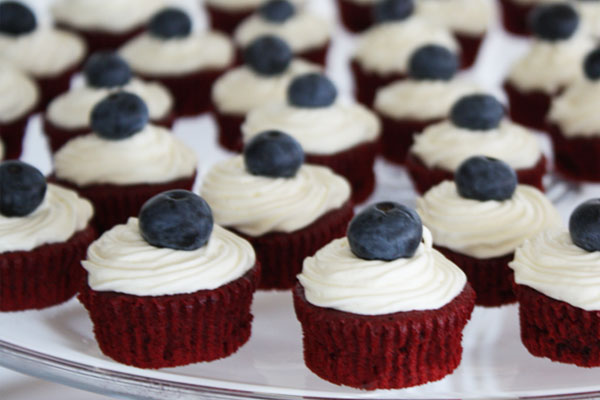 Red Velvet Cakes and American Foodie Heroes:
When I think of red velvet cake, I think of the South and when I think of Southern food, I think of Paula Deen. I tried to make these cupcakes from scratch using Paula Deen's recipe but they turned out tasteless and not red enough.
Needless to say, I was very disappointed in Paula's recipe and ended up tossing the whole batch in the trash.
Luckily, a foodie and my American hero for the day, Duncan Hines came to the rescue! These cakes are made with his boxed mix in mini muffin liners. They were frosted with Betty Crocker whipped cream cheese frosting and topped with a blueberry.
Fun fact: did you know Betty Crocker was not a real person? The name Betty was selected because it was viewed as a cheery, all-American name. It was paired with the last name Crocker, who was the company director.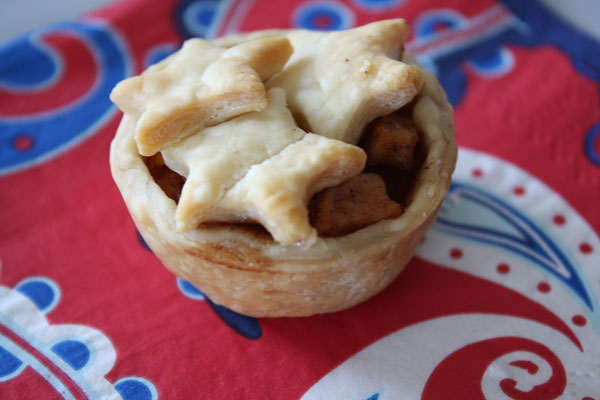 Good 'Ole Apple Pie:
I could never have called it an All American dessert buffet without apple pie. To make mini apple pies, I used the Pillsbury Ready crust and cut out circles to line my mini muffin pan and a star cutter for the tops of the pies.
The filling recipe (for two dozen minis) was a simple mix of 3-4 apples of mixed variety, 1 teaspoon of cinnamon, ¼ teaspoon nutmeg, ¼tsp salt, ⅛c sugar, ⅛c brown sugar, and 1 Tbs lemon juice.
Let it macerate for about an hour and then saute it with 2 tbs butter until the apples are halfway cooked. I did this because the pies were so small I was afraid the crust would burn before the apples finished cooking. You can also use my stovetop cooked apples recipe as an alternative.
Pies were prepared a day in advance and the whole muffin pan wrapped and stored in the freezer. They went straight from freezer to oven in the morning. No soggy crust, no under/overbaked apples.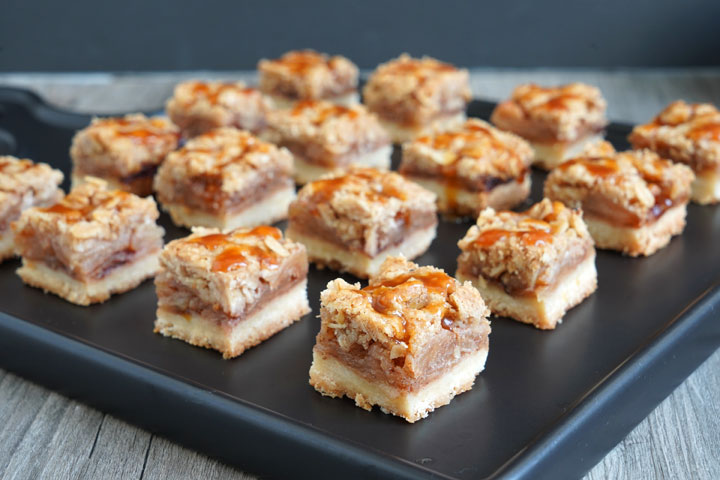 A great alternative to these apple pies would be these bite sized apple pie bars shown above, which can also be made ahead.
Thanks for stopping by! If you enjoyed the all American dessert buffet, you might also want to check out my Celebrating the States on Uncle Sam's Birthday post for even more patriotic themed food ideas.
SaveSave