This white chocolate ice cream is one of my favorite homemade ice creams. It's so delicious with cocoa nibs and you won't miss chocolate chips at all!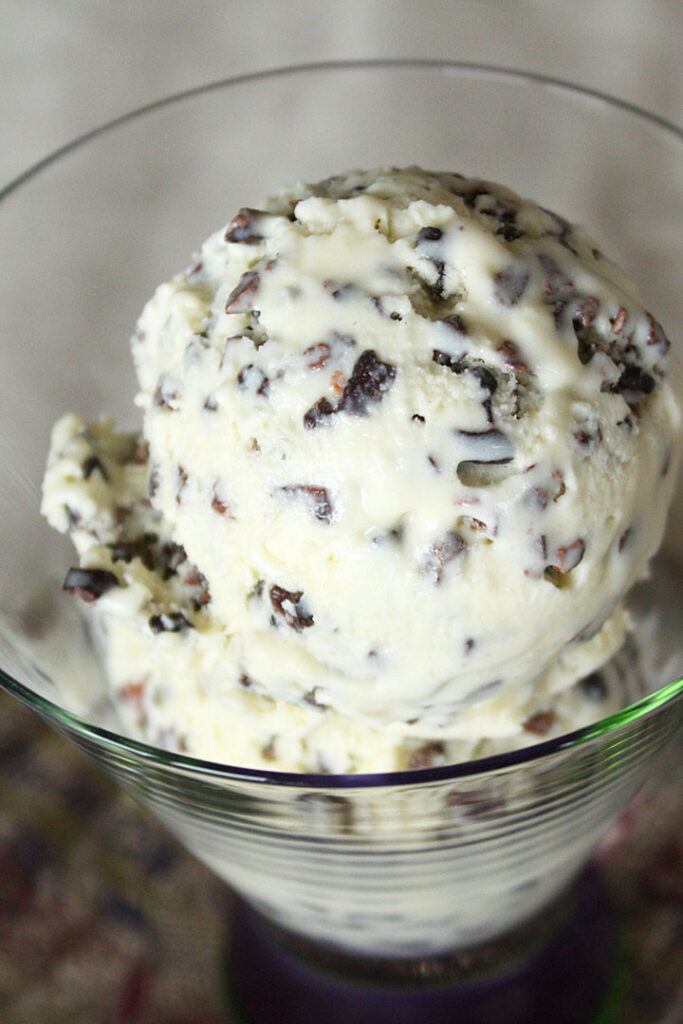 What are cocoa nibs?
Have you ever eaten cocoa nibs? They are basically the essence of chocolate. They are bits of dried, roasted and crushed cocoa beans. It's what your favorite chocolate bar looks like before it is completely ground to smoothness and mixed with sugar, milk and possibly other flavoring.
They don't really taste that sweet but definitely pack a chocolaty punch in your mouth. My favorite part about them is their crunchiness.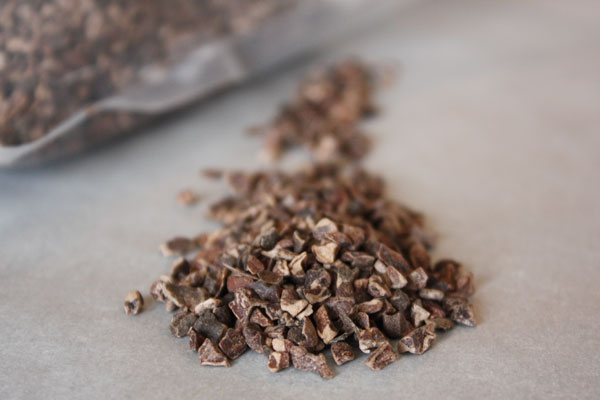 In the world of dessert, they are often used as a garnish. Sometimes they will be used to replace chocolate chips in a cookie or a cake. For example, I made these almond and cocoa nib biscotti.
You can also buy them as a snack in the form of chocolate covered cocoa nibs or a cocoa nib chocolate bar. I like to put them on top of my favorite yogurt parfait.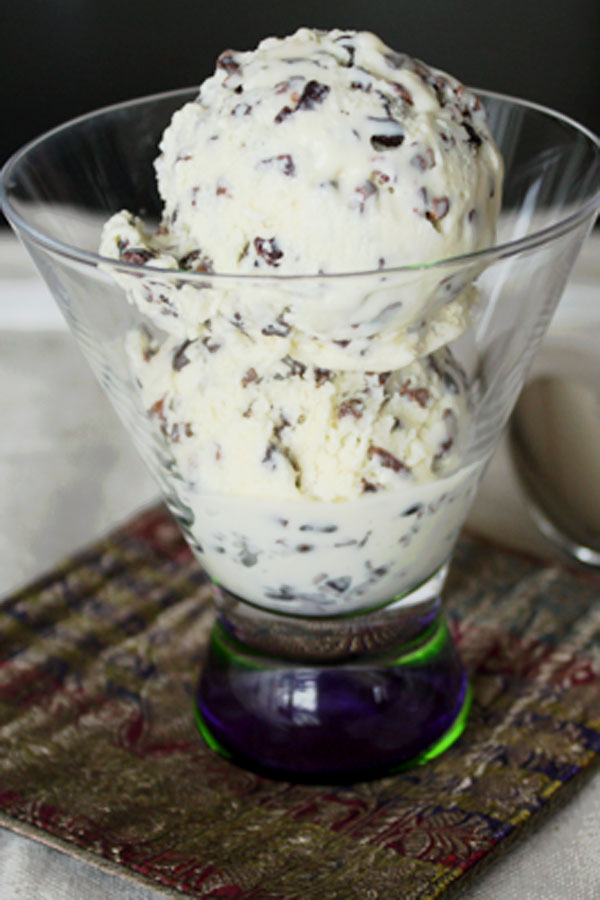 How to Make White Chocolate Ice Cream
Making white chocolate ice cream does't require much more work than making a custard based vanilla ice cream. The result of this ice cream is a much richer taste than plain old vanilla! The recipe only requires the addition of some quality white chocolate that has been chopped.
To make the custard, start by heating your milk and about half of your sugar in a saucepan and bring it to a boil. While this is happening, whisk the yolk with the remainder of the sugar in a bowl large enough to eventually hold the milk.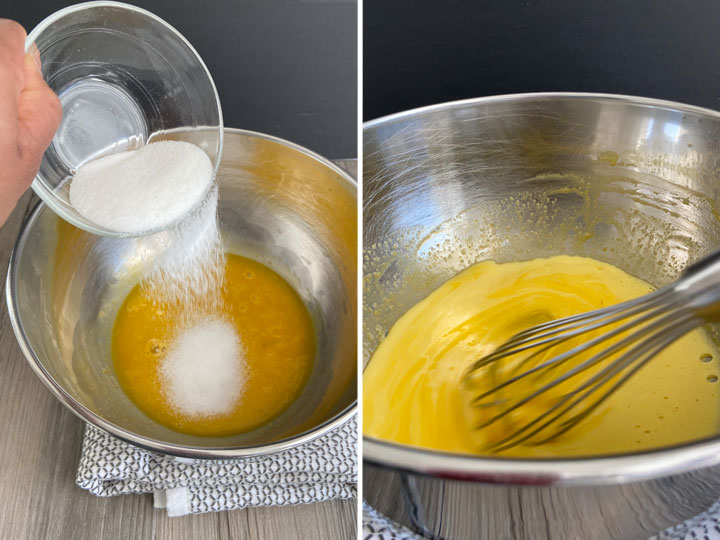 Once the milk has boiled., very very slowly pour it into the eggs while stirring. This slow addition of a hot mixture to the eggs is called tempering. We do it slow so we don't cook our eggs and create a scramble!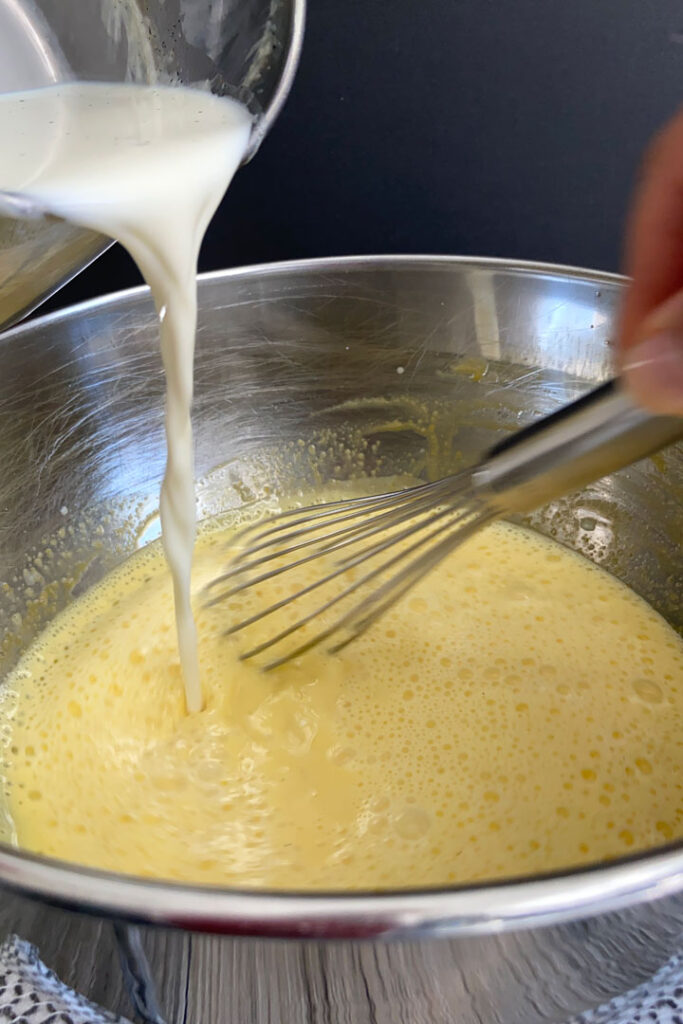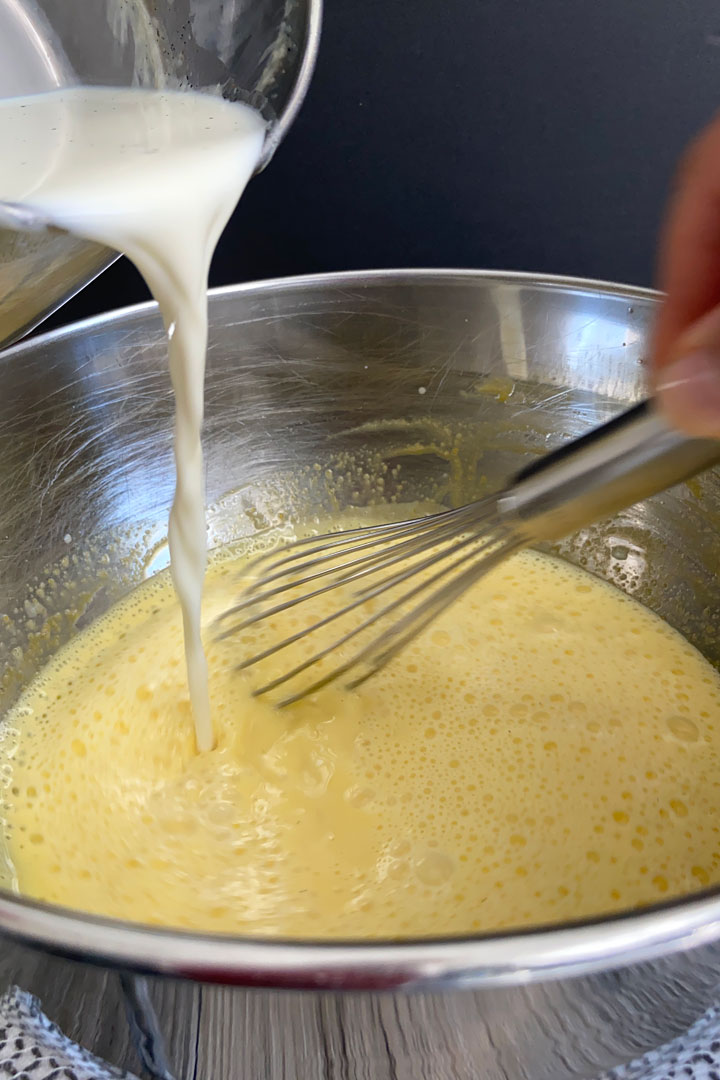 Return the mixture to the saucepan and stir it over medium heat until with a wooden spoon. The mixture will eventually become thick enough to coat your wooden spoon.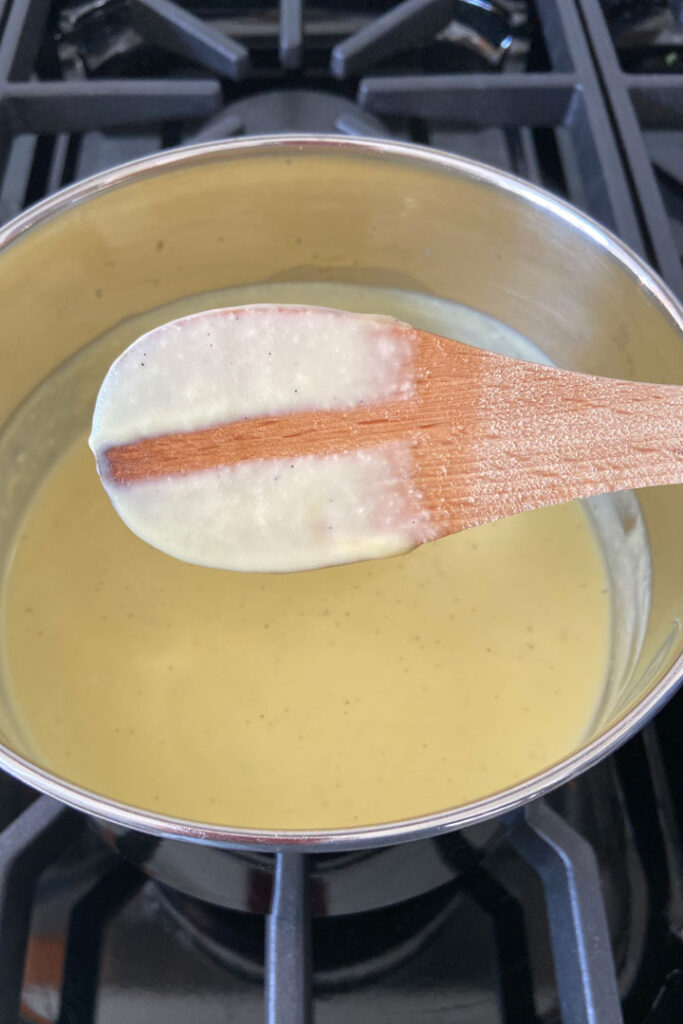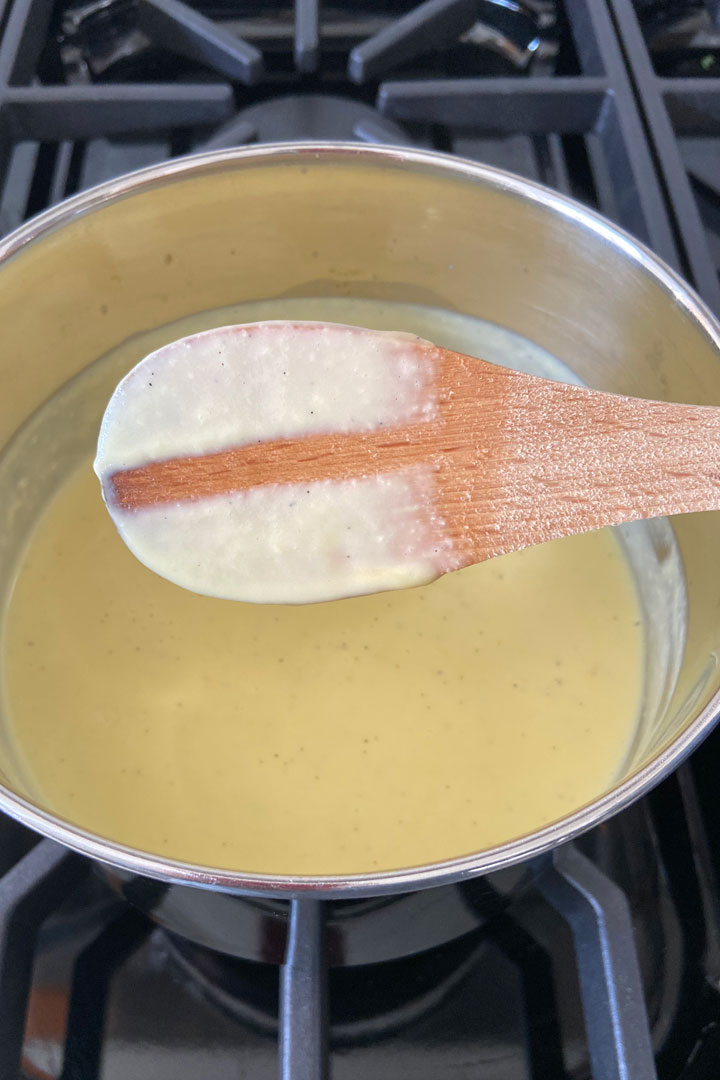 Place a large sieve over your bowl of chopped white chocolate. Make sure your bowl is also large enough to hold the custard that you just made. Pour the hot custard through the sieve and over the chocolate. Stir to melt the chocolate.
Add heavy cream and cool the entire bowl over an ice bath. Once it is cooled, you will need to chill it before churning it in your ice cream maker. The cocoa nibs are mixed in at the end of the churning process.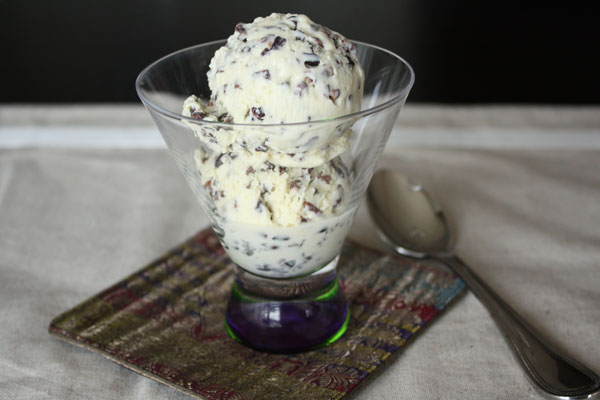 You may want to try drizzling this ice cream with some homemade chocolate sauce or raspberry sauce.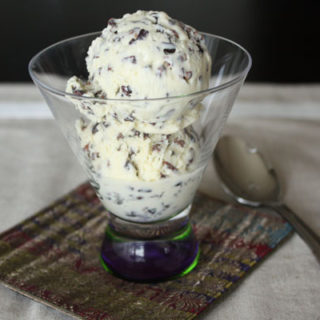 White Chocolate Ice Cream Recipe with Cocoa Nibs
Total Time:
1 hour
22 minutes
This white chocolate cocoa nib ice cream is one of my favorite homemade ice creams. It's so delicious and you won't miss chocolate chips at all!
Ingredients
250  ml whole milk
3  egg yolks
⅓ cup  sugar
100 g white chocolate chopped
125 mL heavy cream
75 g cocoa nibs, a little over ½ cup
Instructions
Heat the milk and about half of the sugar in a saucepan until it boils. Whisk the yolks with the rest of the sugar. (Do not let it sit, mix the sugar immediately after adding it to the yolks.)
Slowly pour a portion of the hot mixture into the eggs while stirring to temper it. Return the egg mixture the sauce pan and stir over medium heat with a wooden spoon. When the mixture becomes thick enough to coat the back of the spoon, it is done.
Pour the mixture through a fine sieve into a bowl containing the chopped chocolate. Stir until the chocolate is melted.
Add the heavy cream and cool it over an ice bath. Refrigerate the mixture for at least an hour or overnight.
Churn the mixture in an ice cream maker. Add the cocoa nibs into the mixture toward the end of the churning process if you can or fold it into the ice cream when you empty the machine's ice cream bowl.
Nutrition Information:
Yield:

8
Serving Size:

½ cup
Amount Per Serving:
Calories:

214
Total Fat:

13g
Saturated Fat:

7g
Trans Fat:

0g
Unsaturated Fat:

4g
Cholesterol:

93mg
Sodium:

32mg
Carbohydrates:

21g
Fiber:

1g
Sugar:

18g
Protein:

4g
This nutrition information is only an approximate provided for convenience and as a courtesy only. Information comes from Nutritionix, an automated nutrition calculator.
SaveSave