Every third week of March is American Chocolate Week. So, in honor of my favorite dessert ingredient, I'd like to share with you something that I have learned about chocolate and encourage you to explore with your taste buds.
I grew up on Hershey's and as a teen I was probably under the impression that Godiva had to be the best chocolatier in the world. I was so wrong and have learned that there is so much more to American chocolate.
In pastry school, we were encouraged to really think about the chocolate we were eating. How does it taste? Is it bitter? acidic? woody? fruity? smooth? So I stopped into every NYC boutique chocolate shop I came across and tried at least one truffle.
Ever since then, the Godiva chocolates all taste like plastic to me. Don't get me wrong. I love chocolate and will still eat that Hershey Kiss or Godiva truffle if it is in front of me!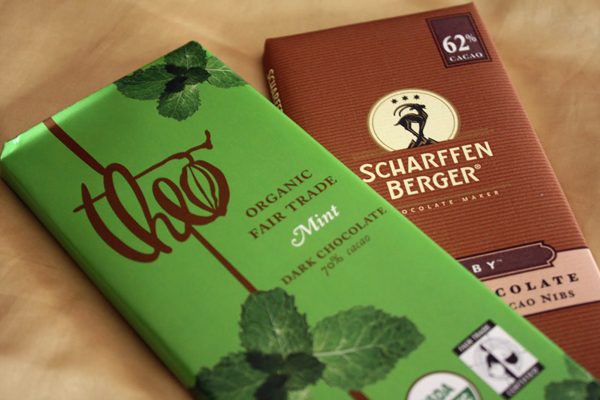 You don't need to be in Paris or Switzerland to find really great chocolate. There are plenty of small scale chocolate makers and chocolatiers right here. Here is a list of a few to help you start exploring.
A "chocolate maker" is some one who roasts their own cocoa beans and grinds them into chocolate. A "chocolatier" is someone who turns chocolate into confections like truffles and dipped fruits.
Look for the chocolate maker bars at local gourmet specialty stores. The chocolatiers listed are all small shops I have visited at some point. So, skip the Hershey's and Godiva and check it out...
American Chocolate Makers:
Theo Seattle's organic and fair trade chocolate
Amano high altitude chocolate from Salt Lake City
Mast Brothers NYC's only bean to bar chocolate
Scharffen Berger a favorite from the SF Bay area
Chocolatiers
Kee's Chocolate, New York, NY
French Broad Chocolate Lounge, Asheville, NC
Christopher Norman Chocolates, New York, NY
Happy American Chocolate Week!